Babyscripts myJourney is bringing more resources to our patients and diversifying the user experience, and we want to share our process with you.
In recent years, we've felt an increasing urgency to diversify the content in our app to ensure that all mothers we serve are personally represented and empowered in their journey.
We called the app "myJourney" to highlight two important aspects of the maternity experience — the progress and development of woman and baby through pregnancy and postpartum, and the individual and personal nature of every woman's experience on that pathway.
That individual journey varies widely over race, culture, education, geography, and income level; and we want the user experience to reflect that. As recent maternal health reports highlight rising racial disparities in outcomes for mothers and babies, providing a safe and inclusive space where all patients are seen and supported is more important than ever.
[Read: Announcing Babyscripts myJourney, the newest generation in virtual maternity care]
Here's what we're doing to make Babyscripts myJourney more inclusive:
Diversifying our visual content.
Visual representation is a key part of making our users feel seen and recognized. Our refreshed content grading rubric includes criteria for inclusion of underrepresented groups within photos like BIPOC, same sex couples, transgender, or those with disabilities.
Focusing on inclusivity in our written content.
To make our written content more accessible, our rubric includes adjusting reading levels to 7th grade or below (ideally targeting 5th-6th grade reading levels), as well as
Avoiding references to resources such as supplies, medications, food and housing that may not be inclusive of a certain socioeconomic status
Including examples relevant to a range of texture and color when content references symptoms related to hair or skin
Not using common idioms that may not be accessible to lower reading levels or users with ESL (i.e. "come out of left field" or "take someone by surprise")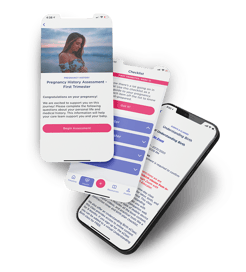 Enhancing accessibility for audio and visual content.
To ensure that all of our users have access to our content regardless of their processing capabilities, we've added photo descriptions under all photos/infographics within resources to be more accessible for text reading capabilities, and all videos have closed caption capabilities. We've also added text language to all links, rather than just saying "click here."
Maintaining up-to-date and clinically rigorous content.
Babyscripts has a dedicated clinical content manager to ensure ongoing evaluation and improvement for myJourney, reviewing content for inclusivity and diversity and also keeping the app up to date with the most recent clinical guidance and best practices.
Meet our Clinical Content Manager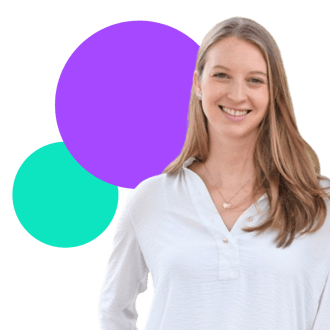 Emily Woody holds a Masters in Public Health, and is a Registered Dietitian and International Board Certified Lactation Consultant (IBCLC).
Emily brings many years of experience working in the District of Columbia's WIC program, which helps low-income pregnant and postpartum women and children (under the age of 5) by providing nutrition assistance, education and breastfeeding support.
Emily worked closely with a diverse population at WIC, primarily Black and Hispanic, creating materials for the program that focused on diversity, inclusion and accessibility.