Babyscripts myJourney
Pregnancy app with patient and clinician-facing portals; daily education, reminders, and checklists to support moms through prenatal and postpartum phases.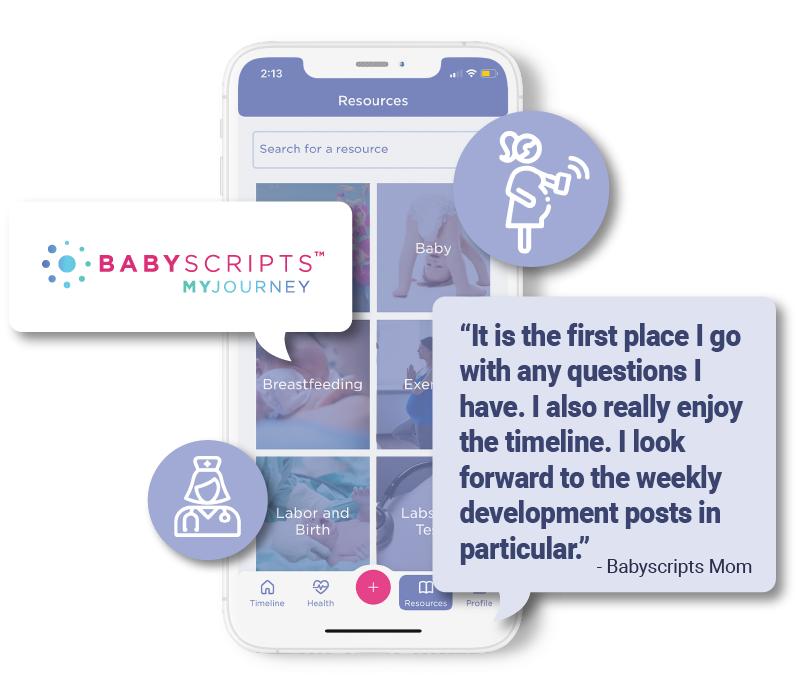 Increase Patient Engagement
Consumer-Friendly App to Reach & Engage Moms
| | |
| --- | --- |
| | Content Library: Over a hundred unique pieces clinically validated content, delivered according to gestational age in English & Spanish |
| | Weight Tracking: Gestational weight tracking and management tools |
| | Care Checklists: Checklists to incentivize and encourage patient care behaviors |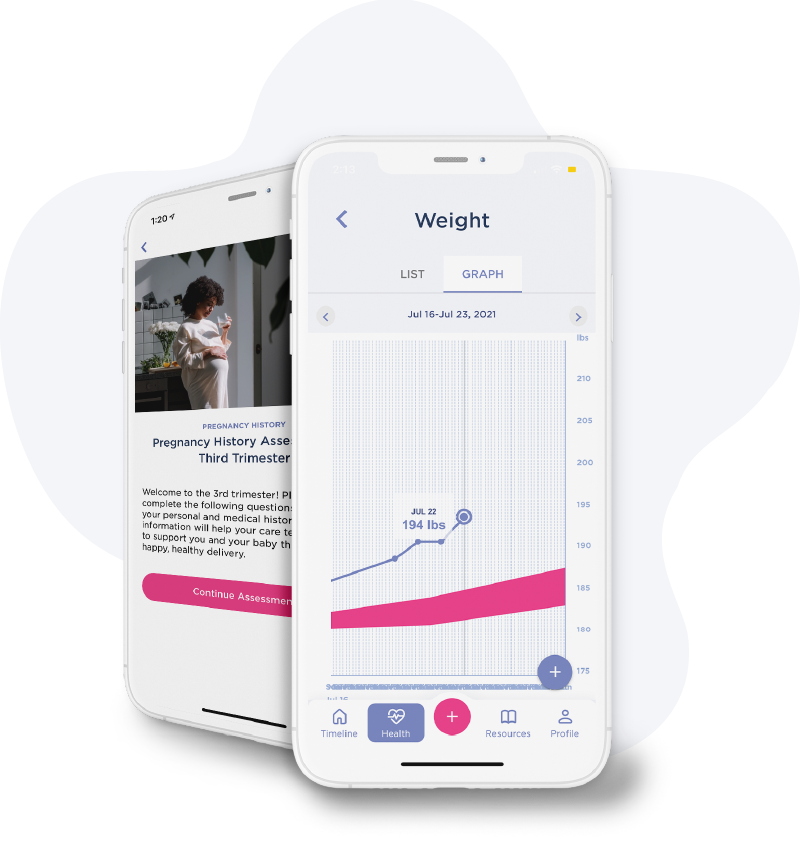 Risk Assessments:

Customizable clinical and social risk assessments

Customizable Campaigns:

Omnichannel communication support to inform and engage patients

Provider Portal:

The right data and tools at the right time to empower providers
Improve Maternal Health Outcomes: Case Study
Proven Clinical Efficacy

Challenge: Nearly half of maternal mortality occurs in postpartum, yet 40% of women do not attend postpartum appointments.
Solution: Implement a consumer-friendly platform that educates and engages patients throughout their perinatal journey.

Impact: The use of Babyscripts at a southern urban health center was associated with an increase in postpartum visit attendance.
Maximize Value
Working with your resources, not against them
| | |
| --- | --- |
| | EHR Integration: Multiple options to order Babyscripts for your patients right from your EHR (EPIC, App Orchard, Cerner, eClinicalworks, Athena Health, Redox, Xealth) |
| | Customizable Content: Include your organization's resources and branding in Babyscripts myJourney app and target specific segments of your patient population with important updates & education. |
| | Analytics & Outcomes Reporting: Provider facing reports to share patient and program outcomes and metrics |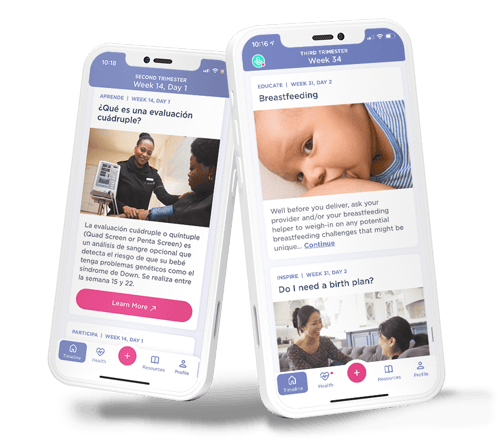 Meaningful support throughout the entire pregnancy journey
Bringing Together Patients, Clinicians & Payers
Reduced Workload for Clinicians
More Visibility for Health Plans
Greater Access to Care for Moms

Staff at Atlanta GYN/OB also say Babyscripts has allowed for "time saved of not having to assimilate over 2,000 packets per year." In addition to the 80% cost savings from paper packets, "the patient responses to viewing the packets on their phone has been great."

"AmeriHealth Caritas DC is invested in creating an engaging maternity experience supported by our various programs that address social determinants [of health], and Babyscripts represents a sustainable, scalable solution,"
- Karen Dale, Market President of AmeriHealth Caritas District of Columbia

"I would definitely look for a provider who has Babyscripts in the future...I have two children already, so it is difficult to find time to see a doctor without a kid coming along. Babysripts offered more time in between appointments, which appealed to me."
- Babyscripts Mom
More For Patients
Engage & Support
Get Started with Babyscripts
Learn how we can help improve efficiencies for your practice or health plan with the maternity care program that shapes better behaviors and drives patient satisfaction.