A New Model for Obstetrical Care
Babyscripts' multi-tiered approach to virtual maternity care allows providers to deliver risk-specific care to pregnant mothers at any time, in any place. The first tier consists of a digital education layer delivered via a mobile app, with daily gestational-age and practice-specific, customizable content extending through one year postpartum to engage and empower pregnant mothers through trusted resources. The second tier enables virtual management of pregnant patients through the addition of remote monitoring. Depending on risk, patients are provided with medical devices (like a bluetooth-enabled blood pressure cuff) to monitor for elevated risk, alerting the provider through a unique trigger alert system to enable risk management and intervention.
Customized maternity app and real-time risk detection
Providers can deliver trusted education, resources, and remote patient monitoring to expectant and new mothers between visits with Babyscripts' custom mobile app.
Improve Pregnancy and Postpartum Outcomes
Babyscripts' partners with Health Plans to improve quality measures (i.e., HEDIS) and reduce the cost of maternity care.
Personalized Prenatal Care for Mothers
Access educational content hand-selected by a trusted health care team during pregnancy and through one year postpartum.
Improve Access to Care
Babyscripts' smart end-to-end management of patients enables the provider to transition care outside of the clinic and address problems of access, allowing providers to automate a majority of patient care while more effectively allocating time and resources to higher risk patients. Our population health tier brings the insurer into the equation in a unique collaboration between care team and payor, solving some of the structural issues of care coordination and access to care, improving outcomes while reducing cost.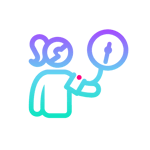 Remote Patient Monitoring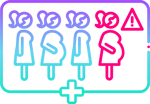 Intelligent Risk Triggers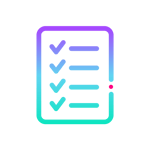 Robust Gestation-Specific Education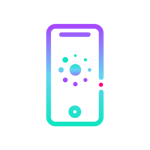 Patient Engagement & Compliance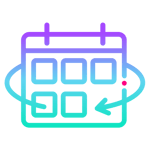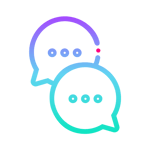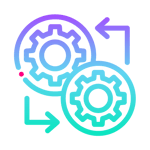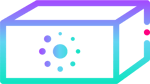 Customer Quotes
Providers and health systems are using Babyscripts to improve prenatal and postpartum care for their patients using our virtual maternity care software solutions:
Dr. Kathaleen Barker, MD
Baystate Health
The exception-based workflow has been tremendous for our practice. One of the biggest hurdles we anticipated was providers, nurses, office staff feeling like they had yet another system to check or process to complete in an already overburdened and taxed system. The peace of mind that comes with Babyscripts workflow is tremendous. If my patients have a BP that's outside of the normal range, I know that information will come to me, whether I'm tracking them in the platform or not.
Dr. Andrea Caracostic, MD, MPH
CEO of HOPE Clinic
"HOPE Clinic is funded to provide care for indigent patients — often unfamiliar with the healthcare system, struggling with barriers to care like low literacy and social determinants of health. Through this collaboration with Babyscripts, we are helping ensure that mothers in these vulnerable populations receive the care they need regardless of risk, closing these gaps in care for our mothers by expanding care far outside the clinic."
Senior Vice President of Service Lines
Babyscripts Health System Client
"Our partnership with Babyscripts began in response to what we hear from new moms. They want greater access, more convenience, healthier outcomes and fewer appointments when appropriate. Babyscripts complements the expert care provided by our women's health team while providing more flexibility for consumers."
Chief Innovation and Digital Officer
Froedtert & the Medical College of Wisconsin
"We know that meeting our patients where they are and connecting in a personal and meaningful way outside of the clinic walls can improve the health and well-being of expectant moms and their babies."
What's new at Babyscripts?
Introducing Babyscripts myBloodPressure
Join the Babyscripts product team on November 16, 12pm ET, as they introduce and discuss Babyscripts myBloodPressure, a new comprehensive product for blood pressure remote monitoring to help providers and payers manage BP complications in the prenatal and postpartum period through four separate clinical risk pathways: normotensive, chronic hypertension, prenatal hypertension (at-risk for preeclampsia), and postpartum hypertension. The team shares current user experiences and how the solution has been used to affect life-saving interventions.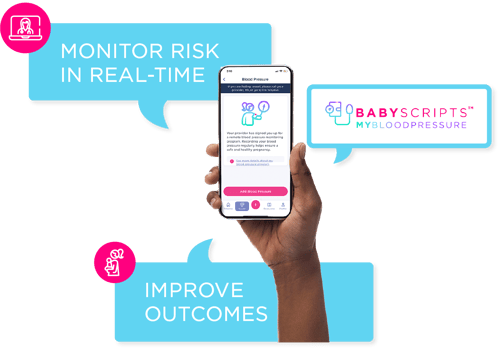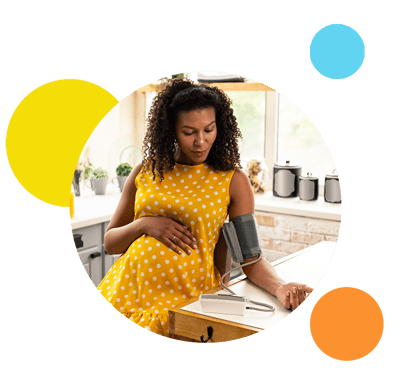 Blood Pressure White Paper
Babyscripts shares the impact of remote patient monitoring for blood pressure on maternal health outcomes within the current maternal healthcare landscape.
Empower Your Pregnancy! Download myJourney
The path to your healthiest pregnancy starts here. Talk to your provider about Babyscripts or download the Babyscripts myJourney app!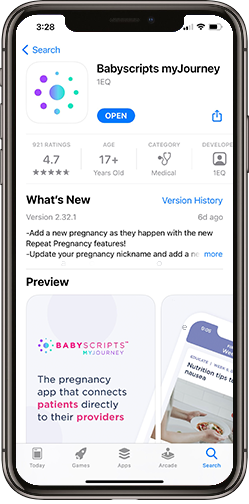 "10 stars and more. This app empowers pregnant women with resources and tools to be knowledgeable. Not only do they give you weekly updates, but you also get daily tips, advice or articles to read. They have a whole resource section to check out if you have a question or concern. I would recommend this to any pregnant mom or woman planning to become pregnant!"
- K_Rymer App Store Review
Leading Pregnancy App Babyscripts Announces Partnership With Nuvo Group
The partnership between Babyscripts and Nuvo Group will enable the delivery of a first-of-its-kind comprehensive remote pregnancy care solution.
Babyscripts secures $12M to roll out its virtual maternity care model
Obstetrics virtual care company Babyscripts raised $12 million in the first round of a Series B investment that will enable the company to accelerate the roll out of its virtual maternity care tool platform to providers.
Banner Launches Digital Health Program with Xealth and Babyscripts
Integration with the EHR is a key step toward better outcomes. Babyscripts' partner Banner Health is teaming up with Cerner & Xealth to simplify delivery of cutting edge tech - starting with Babyscripts.
"UnitedHealthcare and Regional One Health will implement remote patient monitoring to determine its ability to improve access to care by activating Babyscripts"
UnitedHealthcare and Tennessee Initiative for Perinatal Quality Care Focus on Health Equity in Maternal Health Outcomes. The initiative will address racial disparities by providing maternal hypertension and hemorrhage simulation training in 49 hospitals, and testing remote patient monitoring for expectant mothers through Regional One Health