Assess, Educate, Intervene
Babyscripts myMentalHealth
Lightweight, clinically-validated assessments for prenatal and postpartum mental health that shape better behaviors & drive patient satisfaction.
| | |
| --- | --- |
| | Anxiety, depression, and other maternal mental health issues (MMH) represent the most common complication of pregnancy and childbirth, impacting 800,000 women in the United States each year |
| | Suicide and overdose are the leading cause of death for women in the first year postpartum Maternal Mental Health Leadership Alliance |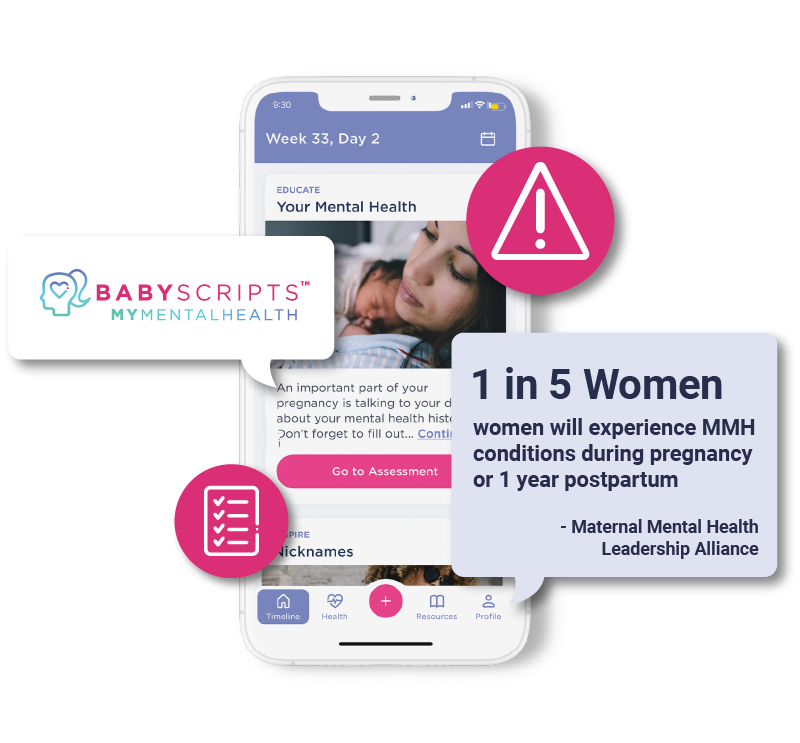 Maternal Mental Health Risk Monitoring
Providing Immediate Resources for Moms
Prenatal & Postpartum Mental Health Assessments: Out-of-the-box mental health assessments (PHQ2/9 and/or EDPS) deployed at designated times throughout the pregnancy

Leverage Existing Resources: Workflows to automatically connect patients to your mental health services and materials

Patient Education:

Clinically-validated content to facilitate patient awareness and self-support around mental health concerns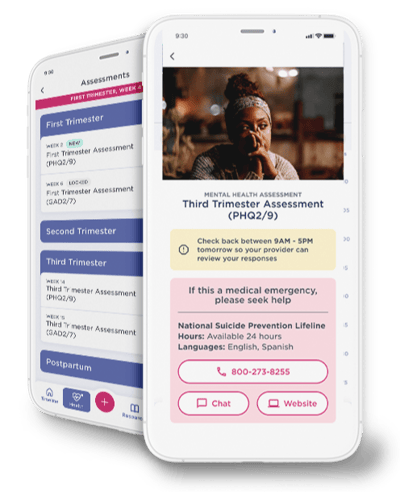 Real-time risk detection to support earlier intervention
Continuously assess maternal mental health during pregnancy & postpartum
Real Time Data Monitoring: Provider-facing dashboard with real-time assessment data and non-compliance trigger flowback to enable ongoing monitoring of assessment response across patients.

Configurable Risk Threshold:

Automated trigger escalations configured to the patient to activate relevant resources in the app and support additional provider outreach.
Analytics & Outcomes Reporting:

Provider-facing reports to share patient and program outcomes and metrics in conjunction with robust trigger management and exception reporting system, providing actionable insights and minimizing alarm burden.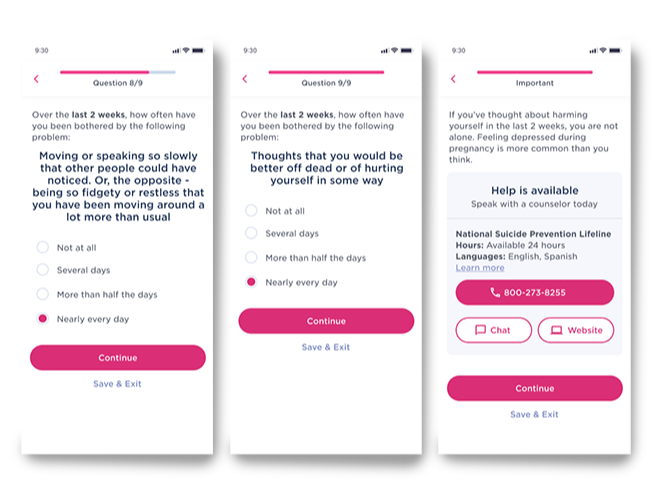 Bridge the access to care gap for the most vulnerable populations
Give Doctors the Data, Give Patients the Support
Empowering Providers
Supporting Mothers

"Mental health can easily slip through the cracks in an OB appointment. It's difficult to diagnose and identify in the space of an appointment, and due to stigma and other barriers, mothers are not always forthcoming about their mental health struggles. We believe that technology delivered in the comfort and security of a patient's home, that connects them directly to resources and identifies emerging symptoms in real time, has the potential to close these gaps in care."
- Dr. Kathryn Marko, Ob/Gyn at GW MFA

"This app empowers pregnant women with the tools they need to be knowledgable. Not only do they give you weekly updates, but you also get daily tips, advice or articles to read. They have a whole resource section to check out if you have a question or concern. I would recommend this to any pregnant mom or woman planning to become pregnant!"
- Babyscripts Mom
Improve Maternal Mental Health Outcomes
Get Started with Babyscripts
Bridge the access to care gap by leveraging digital technology to shape better behaviors & drive patient satisfaction through precision engagement.