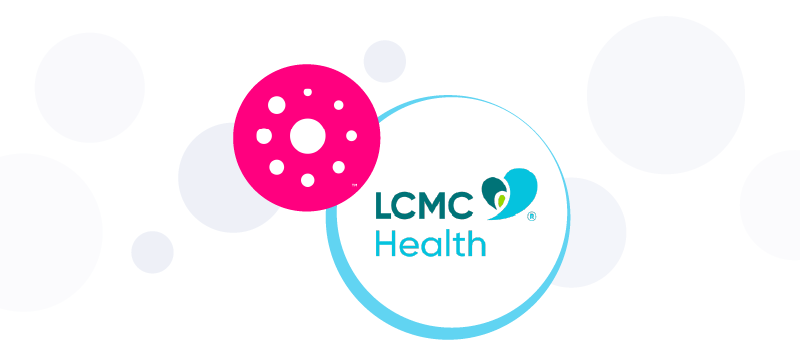 Babyscripts recently celebrated one year of partnership with LCMC Health,
a New Orleans-based, non-profit health system. For expecting mothers enrolled on Babyscripts through LCMC Health, there's a lot more to celebrate than an anniversary.
The use of Babyscripts at LCMC Health has delivered significant returns in terms of patient engagement and improved rates of postpartum visit attendance, proving a positive impact in the lives of some of the most vulnerable mothers in the U.S.
Women in South Louisiana, the area that LCMC Health primarily serves, face some of the worst odds in the nation when they become pregnant. With one exception, every parish in the region falls into the highest category on the March of Dimes social vulnerability index, a scale that determines areas where pregnant women are more likely to experience poor maternal or infant health outcomes. Factors include socioeconomic status; household composition and disability; minority status and language; and housing type and transportation.​​
Furthermore, according to the most recent data, thirty-five percent of Louisiana's parishes qualify as Maternity Care Deserts — that is, counties in which access to maternity health care services is limited or absent.
[Read: Labor Shortage Woes Are Worsening Maternity Care Deserts]
For Black or Brown women in these parishes, the distance to a doctor is not the only hurdle to overcome.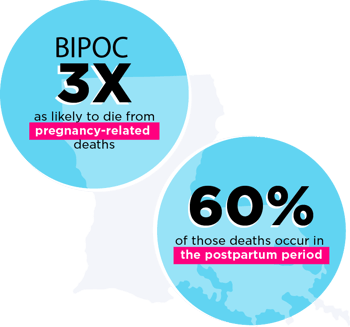 Tragically, large racial inequity in risk persists above and beyond differences in geographic access to
maternity care, with BIPOC being three times as likely to die from pregnancy-related deaths as their white peers.
Sixty-percent of those deaths occur in the postpartum period — specifically the six weeks followingdelivery. Mothers with high social vulnerability often fail to attend the postpartum appointment that is recommended during this timeframe: a safeguard built into current maternity care standards that also serves as an indicator of the long-term health and well-being of mother and child.
[Read: Postpartum Continuity of Care Case Study]
Providers at LCMC Health found that offering continuous digital touchpoints and ongoing education and reminders during the postpartum period through Babyscripts drove up rates of postpartum visit attendance. In an analysis between Babyscripts users and a control group at LCMC Health, Babyscripts users were more than two times as likely to complete a postpartum visit in the first 30 days following delivery than the control group. By 60 days postpartum, 64% of Babyscripts users had completed a postpartum visit, compared to 44% of the control group.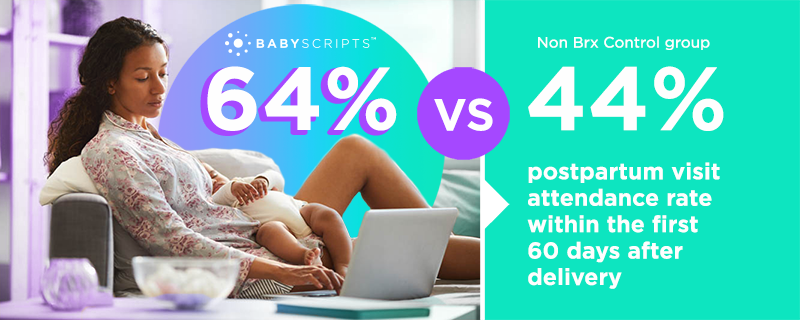 The partnership has already provided more than 1,200 mothers in Louisiana with equitable access to care. Pregnant and postpartum mothers receiving care through LCMC Health have access to Babyscripts myJourney, a mobile app that offers provider-approved educational content, gestational age-appropriate information, reminders, and notifications to improve engagement and adherence to quality measures, weight tracking, and practice-specific resources.
Additionally, patients at risk for high blood pressure are enrolled into Babyscripts myBloodPressure, which enables at-home antenatal and postpartum blood pressure monitoring to facilitate diagnosis and management for complications such as preeclampsia and postpartum hypertension. Overall, compliance with remote monitoring exceeded LCMC Health's target goals, in certain instances by as much as 30 percent.
Serving a patient population that is primarily Medicaid, LCMC Health has showcased the benefits of deploying digital health for under resourced populations, in addition to immediately improving the lives of all of their pregnant patients enrolled on Babyscripts.
With Babyscripts, health systems are opening opportunities to access and providing consistent, high-quality pregnancy care to all patients, regardless of race, income, geography, or risk.