Epic is one of the highest consumer-rated EMRs on the market and remains one of the most popular choices for a system of record and scheduling interface. Many healthcare systems rely on the EMR and its features to fulfill multiple roles, and question the value of specific service line enhancements like Babyscripts' obstetrics-specific Virtual Maternity Care solution.
Yet a recent survey of hospital C-suite leaders showed that, in a group traditionally committed to EMRs, nearly 60% would look outside their EMR vendor to other health IT vendors to provide new tools. Of the same group, most plan to invest in new solutions to augment their EMR. These numbers confirm the reality that the EMR cannot do everything.
Here we make a head-to-head comparison between Epic and Babyscripts on various benchmarks to see which one of them comes out on top as a service line enhancement. In this comparison we focus on Epic MyChart (PHR) and Epic Care Companion.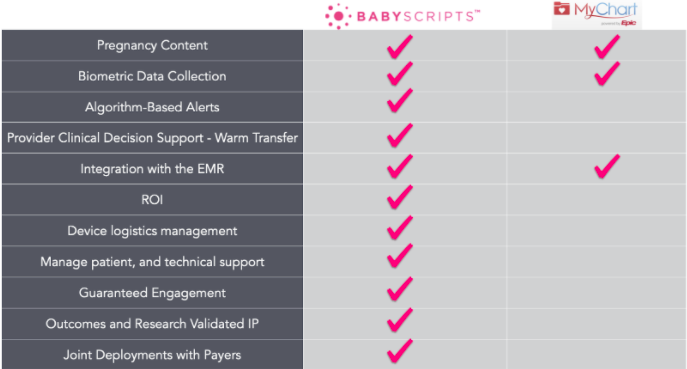 THE SOLUTION
Epic MyChart is a portal that allows patients to access their patient information and is primarily operational, not clinical. It is mostly effective for
Appointment scheduling
Review test results, medication, immunization history
Access family health history
Bill pay
Prescription refills, and
Direct secure messaging
Babyscripts is an obstetrics-specific tool that gives patients access to content and reminders that target their pregnancy needs, including
Gestational age-appropriate educational content
Satisfaction surveys
Appointment reminders
Weight monitoring
Daily nutritional, medical and lifestyle action items, based on evidence-based guidelines approved by the patient's OB
Real time updates from their providers about changes in policies or services during the COVID-19 pandemic.
PATIENT DATA
Epic MyChart allows patients to upload personal health and fitness information. However, it simply acts as a storage space for that data. The data is not actionable by the provider and has no direct effect on care management.
Babyscripts uses remote patient monitoring devices linked to a mobile app to collect patient-generated biometric data. That data is always accessible to the provider through a dashboard. Additionally, with Babyscripts' unique trigger alert system, the provider is directly alerted of abnormal data points, facilitating triage and intervention.
OUTCOMES
A study on patient portal use and hospital outcomes published in JAMIA found that use of a patient portal like Epic MyChart in the inpatient setting may not improve hospital outcomes.
The use of Babyscripts has been shown through multiple studies and client data to result in
Lower postpartum readmissions
Early detection of preeclampsia
Increased access to care.
---
These outcomes are partially related to the use of physical RPM devices.
Epic does not provide physical devices for remotely monitoring patient biometrics.
Babyscripts Virtual Maternity Care includes Maternal Health Monitoring, which involves the delivery of internet-connected devices to patients for tracking and monitoring biometric data. For example, patients monitored for blood pressure (BP) are provided with an FDA-approved, bluetooth-enabled BP cuff to monitor for elevated risk — specifically normotensive patients, antenatal hypertensives, and postpartum hypertensives. BP readings collected through the device are communicated directly to a patient database accessible at all times by the provider. Babyscripts monitors these readings, alerting the provider of any BP reading in an abnormal range through a unique trigger system, enabling risk management and intervention.
---
INTEGRATION
Integration is a key reason that health systems may choose to work with existing toolkits within the EMR, as in the case of Epic MyChart and Epic Care Companion.
Babyscripts integrates within Epic and other EMR systems through multiple methods, to ease the user's burden in ongoing maintenance and operations. Integration efforts are both technological and also focused on workflows that help practices do more with less. Onboarding is the most common type of EMR integration implemented. This integration converts the patient registration workflow, changing it to a more automated one within the customer's EMR. For example, at customer Epic sites, the integrated onboarding workflow automatically orders Babyscripts at the new OB encounter — directly in the protocol order set.
---
What about Epic Care Companion?
Epic Care Companion is an extension of Epic MyChart that supports patients and drives their active participation in healthcare through tools like medication adherence and symptom tracking. Yet while investing in specific component parts of what Babyscripts and other service line enhancements typically offer (e.g., like Babyscripts, Care Companion Healthy Pregnancy offers an app modality, pregnancy-specific content, timely reminders and integration of data points from IOT devices back to the record), Epic Care Companion fails to scale programs and offer the right protocol at the point of care to generate real ROI.
Epic has to spread its development and support resources across the health system, resulting in the simplistic and generalized Epic Care Companion for maternal health and other specialty areas.
Babyscripts is developed to solely address obstetrics-related concerns, and for this reason is able to provide individualized content and workflows tailored to maternal health.
---
COST & INVESTMENT
Epic typically entails a multimillion dollar investment and requires dedicated resources to support the implementation and technical support to maintain the platform.
Babyscripts is a fraction of the cost of Epic. Babyscripts creates efficiencies and automates elements of care. For some patients, providers can reduce the number of face to face visits, while still capturing the same global fee. Included in the price is a dedicated customer support team to support all technical and patient support, updates, best practices, etc.
REIMBURSEMENT
There is no reimbursement for Epic.
Babyscripts created their Joint Deployment model to help health systems offset the cost of the solution through a collaboration with the payor. With the introduction of new CPT codes in response to COVID-19, there are even more opportunities to receive reimbursement for Babyscripts from payors.
[Read COVID-19 and the Insurer: How Payors are Responding to the Pandemic]
CONCLUSION
As an enhancement for obstetrics, Babyscripts is superior to Epic, Epic MyChart, and Epic Care Companion on every point. Unlike these solutions, Babyscripts manages health outcomes through targeted content, compliance measures, actionable data and trigger alerts. Babyscripts is the expert in remote obstetrical care and with nearly 7 years of proprietary protocols, technology, collateral and assets has developed best practices that allow a virtual obstetrics program to actually scale.
Because of its specificity, Babyscripts does have limitations. Babyscripts is not a system of record or a scheduling interface, and Epic is not built to manage device delivery logistics or virtual care compliance and change management. These tools have individual strengths and work best when used together.
In sum,
EMRs and EMR tool kits have responded to competition from digital health startups with PHR or Data Aggregation Services that have limited functionality.
EMRs and EMR tools kit have demonstrated negligible effects on outcomes.
Unlike PHRs, Babyscripts' Virtual Maternity Care program drives improved outcomes through targeted content, compliance measures, actionable data and trigger alerts.
Integrated into the EMR, Babyscripts seamlessly incorporates into practice workflow to create the most effective outcomes-oriented solution.