With an average of 20.1 maternal deaths/100k live births, the US is the most dangerous developed country in which to give birth. For black women, the most frequent victims of our crisis-level maternal mortality rates, the odds are even worse.
According to the most recent data, the maternal death rate for black women is more than double that of white women: 44.0 deaths per 100,000 live births compared to 17.9. It was also more than three times the rate for Hispanic women at 12.6.
These statistics represent deaths up through 42 days postpartum, the time when most women attend their single postpartum appointment. There is no data on the amount of deaths from postpartum complications past this marker — most significantly, around postpartum depression and other mental health issues. In actuality, the number of deaths are likely higher than reported.
Black Maternal Health Week (April 11-April 17) was established to bring awareness to the challenges and barriers that Black mothers and babies experience in receiving maternal health care in the US. We've compiled a factsheet to help others understand the unique challenges they face, as understanding the problem is the first step in working toward a solution.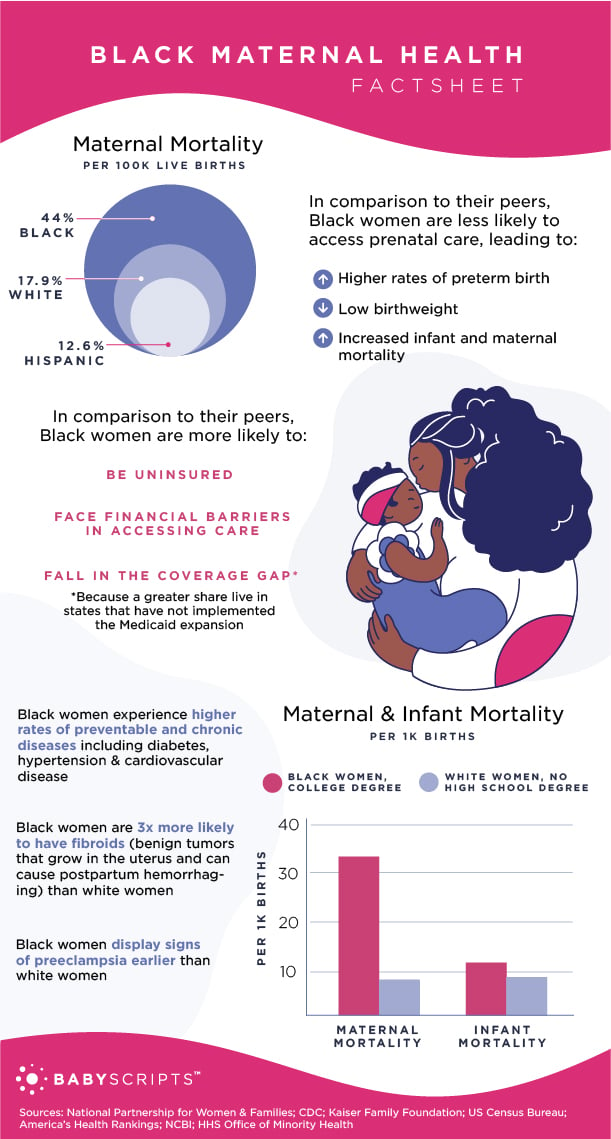 ---
How Is Babyscripts' Virtual Maternity Care Addressing the Problem?
Through remote patient monitoring, Babyscripts addresses weight and blood pressure related-complications that disproportionately affect Black women. Babyscripts
Helps mothers successfully lower gestational weight gain (GWG), limit excessive GWG, and decrease postpartum weight retention at 4-12 weeks postpartum (1)
Increases the opportunity for early identification of preeclampsia through blood-pressure monitoring and a trigger alert system
To address issues of access to prenatal care, Babyscripts employs communication technology to expand the impact of care coordination and improve prenatal care in socioeconomically at-risk patient populations. Babyscripts
Drives adherence to schedule and reduces no-show rates through increased digital touchpoints

(4)

Improves access to care through remote connectivity and monitoring.
To address social determinants of health (SDoH), Babyscripts employs a joint deployment model, which targets SDoH through a unique coordination between the entire care team — providers, payers, and community organizations — that is facilitated through Babyscripts technology. Through this model, Babyscripts
Remotely delivers risk-screening assessments enabling early identification of health and social risk as early in a pregnancy as possible
Connects mothers to needed resources, provides information to the patient that is driven by the whole care team and is specific to the patient's location and needs.
Streamlines the case manager/social worker workflow to allow them to track all deliveries and ensure postpartum visit attendance
Connects to existing plan or provider resources, such as ride-share programs, social workers, case management programs.
As a leader in the maternal health space, Babyscripts has also lent our voice and influence in support of legislation and initiatives to improve access to care for all underserved populations, and recently played an instrumental role in the passage of the first-ever digital health mandate in our home city of Washington, DC. Our mission is better pregnancies, and our commitment to provide access to top quality maternity care to all mothers, regardless of race, income, or risk.