Harris County, Texas (which includes the city of Houston) is a battleground for maternal health. Babyscripts and Memorial Hermann are providing solutions.
The region has some of the highest rates of maternal mortality, outpacing numbers for the Texas and the broader U.S. Those rates are especially dire for Black mothers in Harris County, who die at a rate of 106.01 deaths per 100,000 live births compared to 54.85 deaths per 100K for White mothers, according to the most recent report.
Since that data was collected, the pandemic drove a massive spike in maternal mortality across the country, yet a report released by the Texas Maternal Mortality and Morbidity Review Committee in December 2022 showed that 90% of maternal deaths in Texas might have been preventable.
Read more: Remote Monitoring Can Help A Texas-Sized Maternal Health Problem.

Babyscripts recently partnered with Memorial Hermann Health System, one of the largest not-for-profit health systems in Southeast Texas, to target the issues that drive these massive disparities in Texas, including a lack of access to care. One of the primary goals of the partnership is to engage patients in their own care from the early stages of pregnancy. Access to care is a challenge for many of the residents of Harris County, many of whom are uninsured or face other social determinants of health barriers.
We spoke to Dr. Victoria Regan, vice president of Women's and Children's Services at Memorial Hermann, who offered us more details on Memorial Hermann's decision to use Babyscripts for their maternity population:
Why Babyscripts compared to other maternal health tech companies?

With the ability to customize and streamline education across the ACO, Babyscripts was the best fit to address Memorial Hermann's objective of personalized care for the OB members of our community.
What specific metrics will the health system be tracking in this partnership? How many patients does it hope to sign on?

Memorial Hermann's goal is to improve maternal health outcomes for our patient population with robust patient-generated data collection through custom assessments and checklists delivered through Babyscripts.

Some measurable goals include: improvement in in-network utilization; greater percentage of eligible patients utilizing app; and an improvement in patient experience scores.

What do patients and providers like about the tech?

Providers like that they can input their custom educational resources for patients. They're excited about the checklist feature and its use for highlighting important topics at each stage of pregnancy, and improving patients' pregnancy and appointment preparedness.
On the patient-end, their receiving a Memorial Hermann personalized experience for their pregnancy, the gives them the same information they would get from calling their doctor or the hospital as easily accessed as their phone. Through Babyscripts, we deliver practice-specific info for the Memorial Hospital campus where a patient plans to deliver, including maps, list of pediatricians, what to expect at the hospital, etc.

What barriers exist, like lack of connectivity or Wifi?

One of the barriers to use is patient adoption. Our providers may face challenges in educating patients on why they should use Babyscripts over other consumer facing pregnancy-apps.
The partnership was also covered by Mohana Ravindranath in the weekly newsletter from STAT: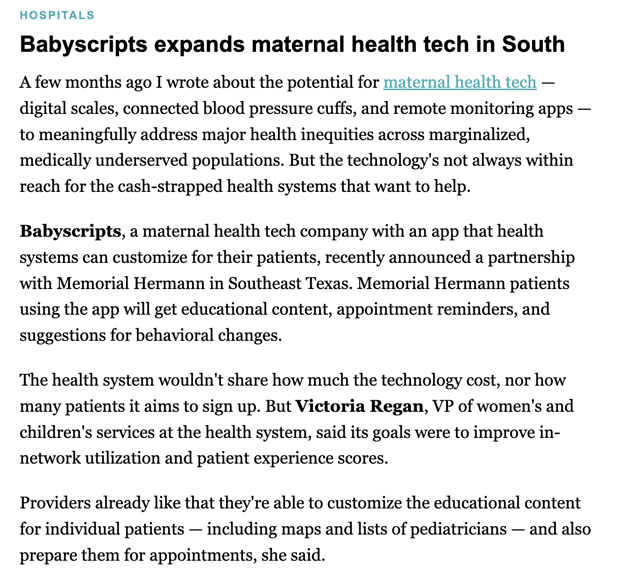 Memorial Hermann is the latest of several Texas providers to deploy Babyscripts to aid underserved patients and improve outcomes for their maternal health population.
---
To learn more about how digital tools are increasing patient engagement for underserved populations, join the Babyscripts team and Dr. Mark Rosing, MD, MPH, FACOG and Chair of Obstetrics at SBH Health System, for a webinar on August 23 at 12PM ET: Patient Engagement Strategies to Reduce Health Disparities.