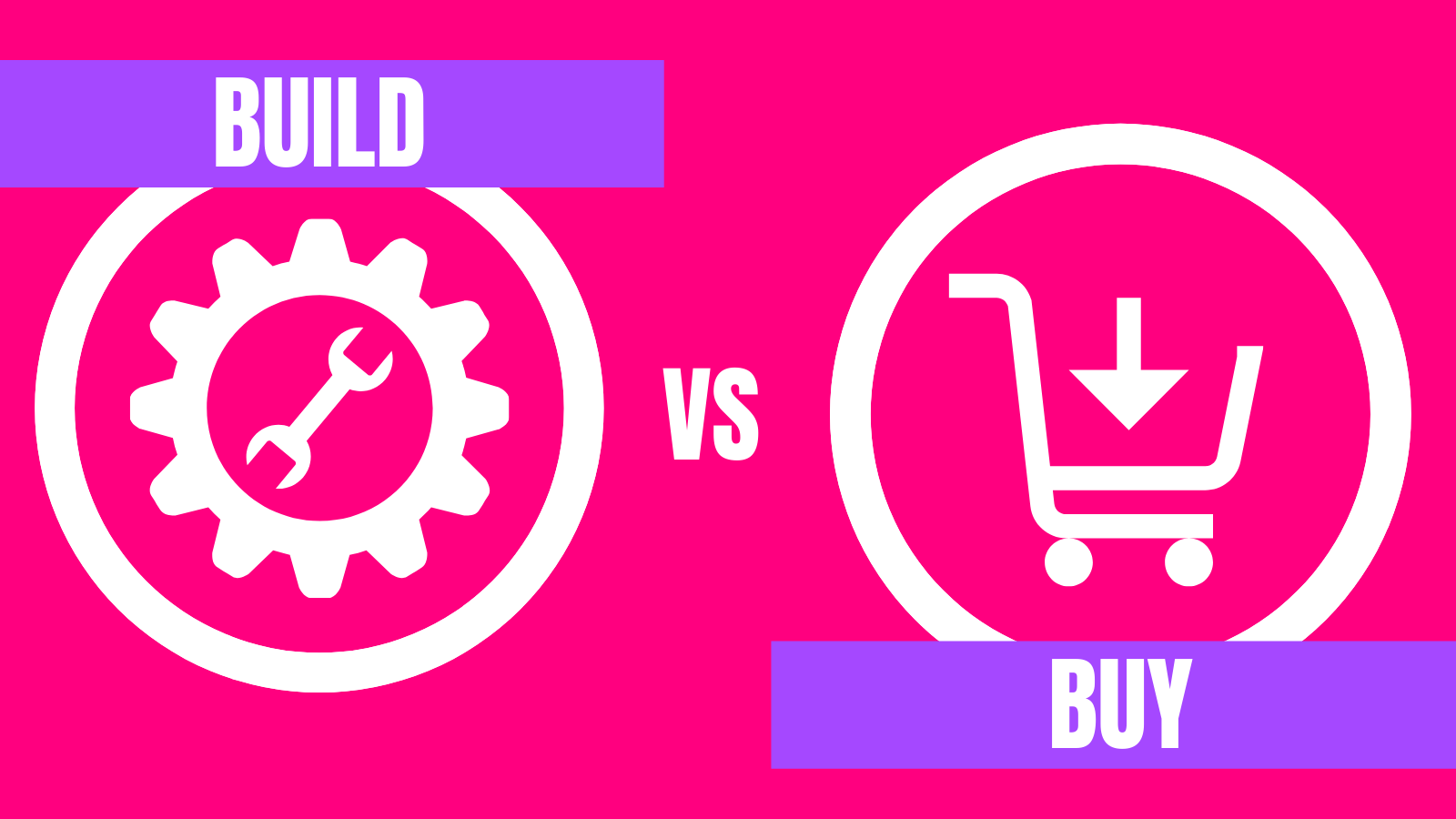 Long before Covid hit, healthcare professionals were being confronted by the limitations of PHRs and EMRs. A study on patient portal use published in JAMIA found that use of a patient portal in the inpatient setting produced no discernible improvements in outcomes. A survey of hospital C-suite leaders showed that, in a group traditionally committed to EMRs, nearly 60% would look outside their EMR vendor to other health IT vendors to provide new tools.
Then the pandemic happened, and the need for solutions that could do more than simple administrative and storage tasks could not be ignored any longer.
Now more than ever, health leaders are pursuing customized mobile apps to supplement their patient portals: to better engage with their patients and have a more direct impact on the patient experience and clinical outcomes.
Of course, many health systems have already invested in large technical teams to manage their PHR/EMRs and online presence, which begs the question: should a health system use existing infrastructure to build these tools internally, or turn to a third-party vendor for a custom solution? Should they build or buy?
---
There are many factors to take into account when making the decision, but we've identified three primary lines of consideration. Taking our Virtual Maternity Care solution as the example, we've broken the question down along factors of cost, development time, and user retention to compare the merits of building a solution in-house versus using a third-party vendor like Babyscripts.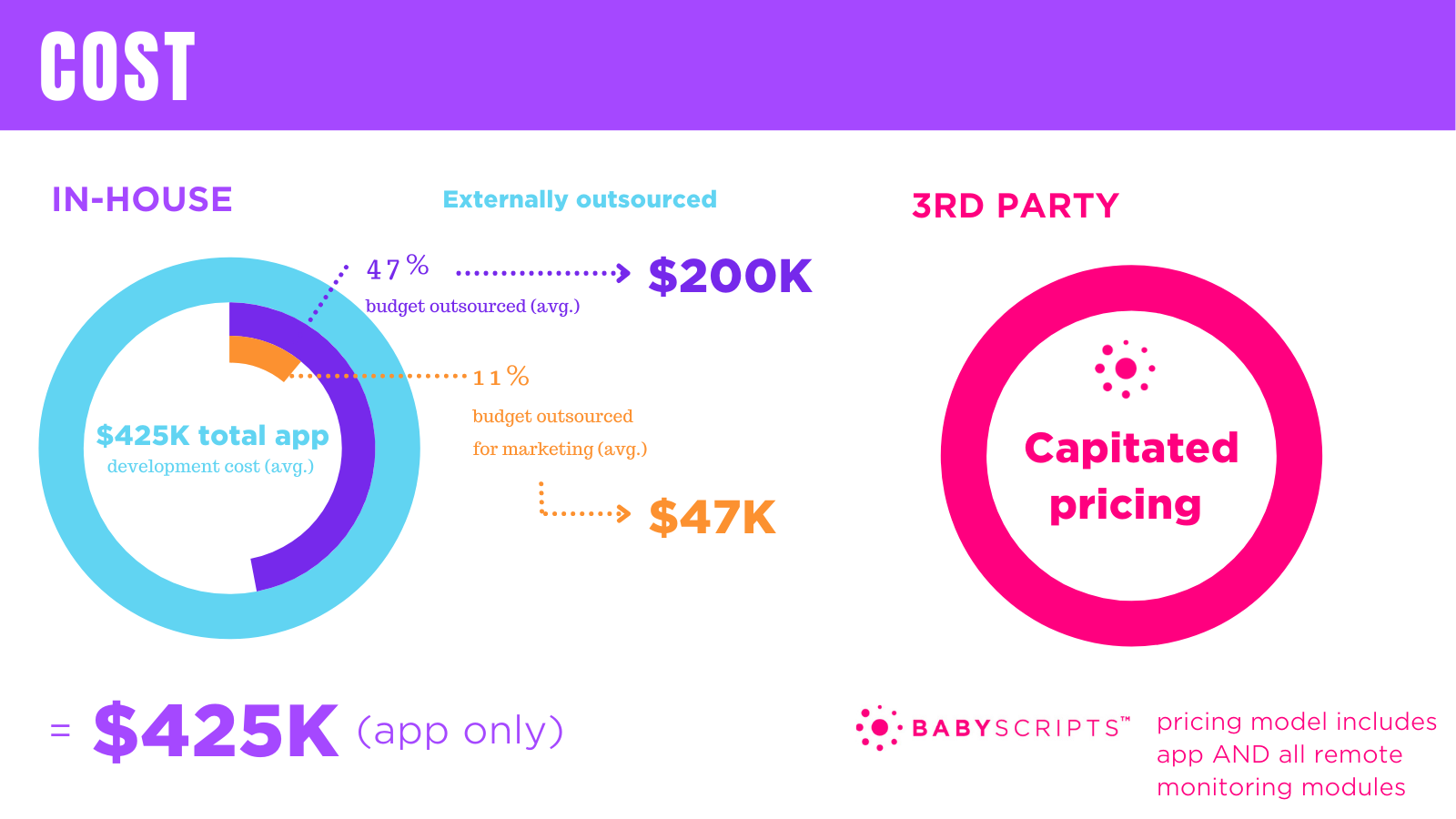 [Source: Research2Guidance mHealth app developer economics study 2017/2018, n=2400]
According to the most recent data, the baseline development cost of an mHealth application is $425,000 (of 2,400 surveyed), and that doesn't include maintenance costs. Babyscripts uses a capitated pricing model that includes access to the mobile app as well as remote monitoring solutions based on risk profile, helping health systems reduce cost and provide better quality care.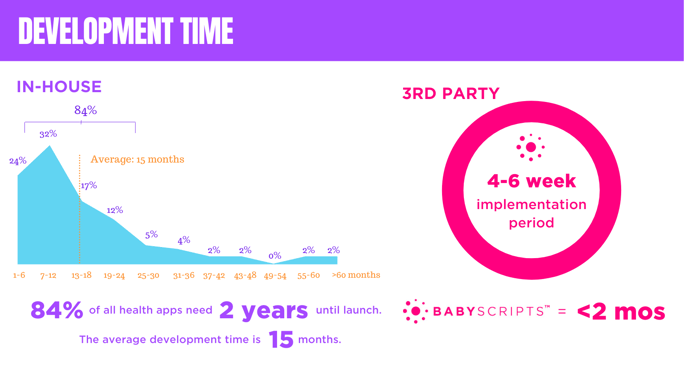 [Source: Research2Guidance mHealth app developer economics study 2017/2018, n=2400]
The average time from ground zero to go-live for an mHealth app development is 2 years (of 2,400 mHealth developers surveyed), and that doesn't take into consideration the inevitable bugs, tweaks, and fixes that occur after deployment of a new solution. Compare that to Babyscripts' 4-6 week implementation timeline. With Babyscripts, providers can start enrolling patients, improving outcomes, and improving costs in less than 2 months.
[Source: Research2Guidance mHealth app developer economics study 2017/2018, n=2400]
MHealth app publishers struggle with user retention, with 83% (of 2,400 surveyed) seeing less than 10,000 monthly active users (defined as a user who has used the app at least once per month). The average of monthly active users for the Babyscripts solution is <15K, a 50% increase from the average mHealth app. Additionally, Babyscripts' monthly active users engage with the app at seven times the rate of the average mHealth app user.
For a more in-depth breakdown on Build vs. Buy, check out these suggestions for further reading:
Build vs. Buy - What health systems should know about the cost of building a mobile health solution, by Juan Pablo Segura (Becker's Hospital Review)
MHealth Economics – How mHealth App Publishers Are Monetizing Their Apps, Report (Research2Guidance)