---
Remote patient monitoring in women's health
Using technology to extend patient care outside the four walls of your practice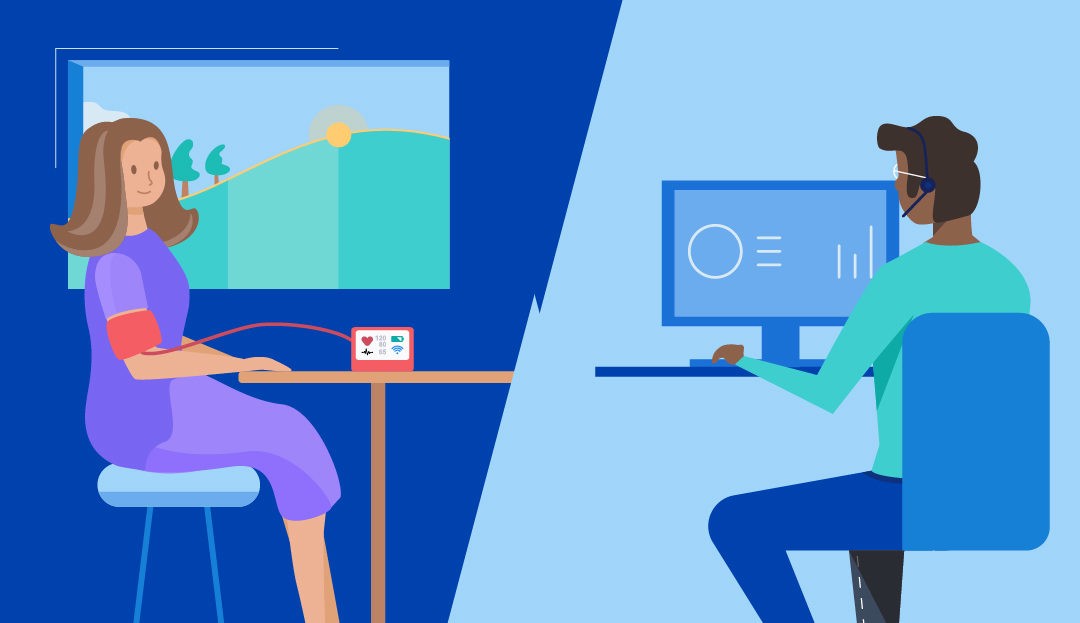 The technology of today enables communities, businesses, and consumers to stay continuously connected. With this technology comes new expectations around convenience, accessibility, and value.
Nearly half (48%) of healthcare consumers are using mHealth devices, compared to 16% in 2014, according to Accenture. Even more notable, Accenture's 2018 consumer survey revealed that 75% of US consumers said that technology is important to managing their health. Patients are becoming more open to intelligent technologies such as medical consultations and taking on elements of their care. Remote patient monitoring (RPM) is no longer a trend, but an imperative in our health care landscape. Through thoughtful implementation, RPM can be used to improve quality, access, and patient satisfaction.
If you are part of a healthcare organization using digital technology, you likely know that identifying and purchasing a solution is the easy part, whereas implementing the solution is often times referred to as "the last mile." Yet it is a common misconception that implementing digital technology is onerous, difficult, and a never-ending uphill climb.
The truth is, it doesn't have to be.
Babyscripts helps healthcare organizations take the guesswork out of implementing RPM, with the following top of mind:
Identify the right champions
The provider is the most-trusted partner in a patient's pregnancy journey. Obtaining their buy-in is the key to unlocking successful adoption and facilitating behavioral change across an organization. With Babyscripts' guidance, a dedicated physician champion is positioned to lead the charge for change management within their organization. They are powerful allies in developing the right success metrics, evaluating results, and ensuring continuity when new team members join the organization.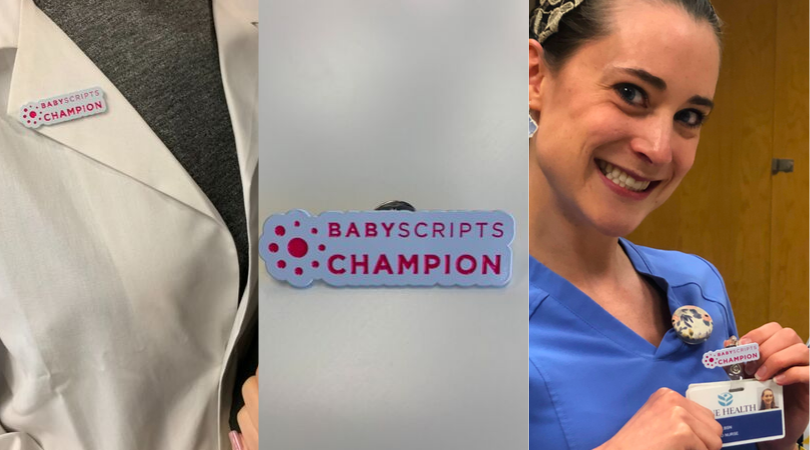 Practical takeaway:
Identify the right champions who are committed to the program and will serve as your organization's RPM evangelist. They are responsible for being the eyes and ears on the ground, providing real-time, valuable feedback to help drive scalable product and process improvements across the health system.
Design a patient-centric workflow
RPM can fundamentally change the patient journey, especially in obstetrical care. Whether during pregnancy or postpartum, at-home monitoring provides a more convenient way for key data to flow back to the patient's care team, without the need for an office visit.
There is real value in this model of care, but clear communication between patient and provider is essential to delivering it. When, and from whom, is your patient receiving instructions on how to conduct her at-home monitoring? The patient must receive clear RPM education from a trusted care team member, and the care team should thoughtfully determine where this best fits into their existing workflows. Additionally, the provider must know how to access patient data from existing or new systems, and this also merits thoughtful design.
Practical takeaway: Solicit feedback from everyone who is part of the patient journey: the front desk staff, clinical assistants, providers, and even answering-service representatives. While flyers and marketing materials in the office can help with exposure and education, building multiple touch points along the patient journey leads to long-term success by ensuring that all team members know their role in supporting RPM across their patients.
Educate and empower all staff
Implementing and scaling digital technology with your new workflow in mind is a team effort. Because patients return to the office for as many as 14 appointments over the course of seven — eight months, they will interact with many physicians, nurses, and staff, all of whom play a key role in educating patients. How providers and staff message the program impacts the long-term success of RPM within an organization.
Practical takeaway: Reinforce that digital technology is your organization's standard of care by implementing an "opt-out" approach. This method is as simple as flipping the standard message of, "Are you interested in participating?" to "At our practice, we use digital technology to provide you with the best obstetrical care possible. Let's get you started!" When the entire practice emphasizes to every patient how technology can deepen their connection to the care team, it becomes a self-reinforcing mechanism where patients will invest their time and energy into monitoring their health. As a result, the "opt-out" approach sets clear expectations on what is required of patients, contributing to a higher level of usage and higher satisfaction with the program overall.
Iterate and embrace change after go-live
You've spent months perfecting the workflow, educating team members, and preparing for go-live. All of this preparation is essential to a successful launch but when reality strikes, it may not go precisely as planned. Instituting processes and mechanisms to allow for real-time adjustments is essential to preserving the momentum of change. More importantly, it sends a strong signal that as an organization, you are committed to success.
Practical takeaway: Establish bi-directional channels for communication, such as biweekly or monthly meetings with practice champions, to set the expectation that quick iteration is an important part of implementing technology. As part of any retrospective review, asking the tough question, "Why did this not go well?" allows for honest conversation from various perspectives. Soliciting patient feedback early and often provides valuable insights into the user experience, from the in-office on-boarding experience to the at-home device set-up, that should then be used to refine future trainings and patient messaging.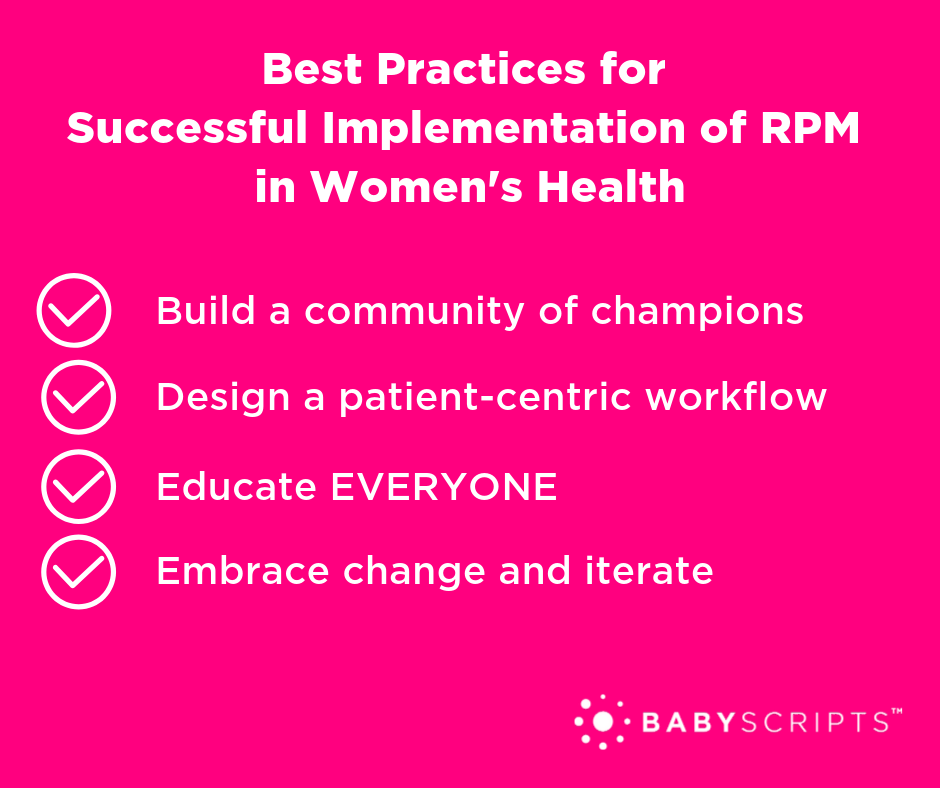 By Justina Tong, Director, Customer Operations and Patient Support (COPS) at Babyscripts