Reading Health, an early customer of Babyscripts, has long been committed to delivering cutting-edge innovation to its patients. Now as a part of Tower Health's integrated healthcare provider/payer system, they are part of a collaboration that offers leading-edge, compassionate healthcare and wellness services to a population of 2.5 million people in Pennsylvania. Collaboration across Tower Health enables their hospitals, providers, leadership and staff to leverage best practices across the health system and stand out as a leader in healthcare transformation.
As part of Babyscripts' continued commitment to bring the best in virtual care resources to providers looking to implement technology in their practices, our team sat down with OBGYN Chair, Mark B. Woodland, MS, MD, FACOG, to discuss his approach to innovation in women's health, and how Covid-19 has impacted his vision of care for the future.
Read below for the highlights of Dr. Woodland's remarks, and access the webinar here.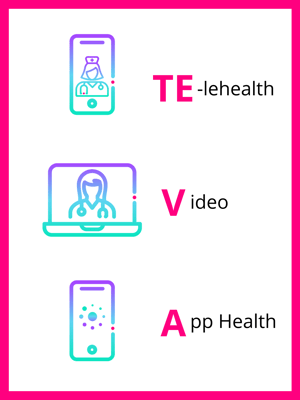 Intro
The importance of making virtual connections was one of the primary things to come out of the Covid crisis — our health system of 7 hospitals spans a 70 mile radius, and TeVA has been a method for us to connect all of our agencies.
I've coined the word "TeVA" to refer to digital solutions: 1) Tele- 2) Video, and 3) App health).
Telehealth
Since the phone was invented we've used it for communication — to find out how we feel and how and what we're doing. These are the conversations we use in social networks, but in medicine as well. Through the phone we're able to communicate emergency situations and protocols — what is coming, who is coming, what is their condition.
Telecommunications in medicine open access to providers and patients for remote situations, enabling patients to talk through what they're experiencing and get direction. It also facilitates practicalities like scheduling and messaging.
Video health
I started my career with minimally invasive gynecological surgery. One of my favorite things about minimally invasive surgery was being able to look into a cavity and see what was going on — seeing it was often better than being able to feel it. One of my initiatives when I came to Reading was to put together an environment for all of our minimally invasive surgeries that standardized the pictures that should be taken. I knew that if I was looking at a Medical Record and I wanted to see what something was in that operative report, those pictures became really important. Pictures can also help with wound care and lumps and bumps — and we know that. We can also use them with pathology and radiology — in fact one of the things we've learned through the pandemic was that we could learn and enhance our knowledge virtually, and interface with many different things at one time. For instance, I can import pathology and radiology and procedure pictures, and generate meaningful conversations with oncologists, pathologists, medical oncologists, et al, and make plans for a patient who may be remote, and often with providers who are also remote. Video health not only transmits information but also helps create meaningful plans for individuals.
App Health
App health helps us track patient activity and provide resources, and establishes a connection between providers and patients that is really unique. I think that's what app health really does: individualize an experience for different people. What we've learned through Babyscripts and other apps is that we can personalize the apps for our practices and our providers, and enable our providers to get a message out to their patients whether they're actively in the app or not.
The patient can interface with the app, search for their question in the FAQs — the patient can take a deep dive into that information and then communicate that back to the provider, allowing the provider to then interface backwards with the patient. That personalized information, the retrieving and sharing of it, is the most important aspect of app health. It can be transmitted into the medical record and become part of the learning and healthcare experience, and lead to better outcomes. Those outcomes can then be measured by the metrics already in place.
The Potential of TeVA
One of things that happened doing Covid was delayed diagnosis on many things like blood pressure, diabetes, cancer, and others. Covid didn't cure any of those things, we just stopped looking for them because we stopped seeing patients in our offices. But what if through TeVA we didn't stop seeing patients? What if Covid hadn't stopped those diagnoses? Maybe some of the outcomes metrics could have been different going forward. What if we could use TEVA to continue our service/diagnoses?
ACOG has been actively addressing the needs of the community of women's health: they send out updates and headlines and link to the CDC website with important information. ACOG understood that the community was learning about telehealth very quickly and that they needed to update our knowledge about telehealth from the prior understanding and utilization.
798: ACOG Committee Opinion on Implementing Telehealth
This opinion was actually available pre-Covid, but was not as specific as the current circumstances demanded, and was recently updated to include some of the things learned from Covid. The recommendations and conclusions from this are varied, but here's a brief summary of the major points:
There are many state regulations on what restrictions are placed on patient and provider locations. Some of it has to do with licensure, some with reimbursement, some with liabilities. As a doctor based in Pennsylvania, for example, I have patients in New Jersey or Maryland or Delaware, and I've had to look at these specific restrictions very carefully, because they do overlay with insurance issues that exist for patients and providers around coverage. Just as if the patient sees their provider in-person, and their labs have to be sent to a specific place or their request for medication to a specific pharmacy, there are insurance issues that do exist and providers have to work through those with their patients.
The emphasis should always be placed on supporting the patient/physician relationship. From a study that we did with the Babyscripts app, the data showed that the app enhances the patient/provider relationship in a very big way. Patients feel that they have easier access to their providers, on a convenient and more modern level.
Providers must check with their liability providers to insure coverage, and obviously there's hardware, software, a secure internet connection that is necessary to have. A practice needs to ensure quality and privacy with any use of digital tools.
Provider considerations for telehealth are state specific, so know your laws. Ensure security with all technology and evaluate the licensure.
Practices need to consider the credentialing/privileging criteria for a location, both for the provider's location and the patient's location, and assess reimbursement. A lot of our insurance products right now have a very large deductible — patients have to understand that the copay will go to the deductible.
Connectivity is key — with video visits there is a risk of being interrupted, so a backup plan for communication should be established.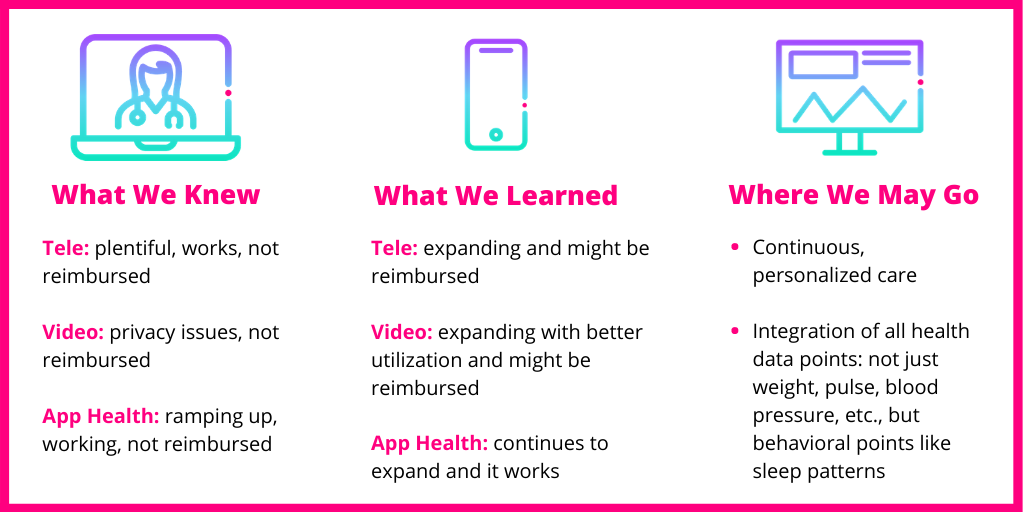 What We Knew: Pre-Covid
We had an unlimited visitation policy pre-Covid for our Labor and Delivery Unit, but during Covid we were forced to limit the number of people allowed into the hospital. What we learned is that our patient satisfaction rates actually improved with more restrictions on visitors, our lactation rates went up, and our infection rates went down. Post-Covid we're modifying our visitation policies to reflect these statistics.
We of course had been using the Babyscripts app pre-Covid, and through that we knew that remote monitoring for low-risk patients works. We also had a connectivity to our EPIC chart called MyChart, which we knew worked to connect the provider with the patient. We were able to send out e-reminders not only to our patients but also to ourselves: for example, alerts for new patient results.
What We Learned/Are Learning: Intra-Covid
With the onset of the pandemic, we really enhanced our telephone and televideo visits. Pre-Covid, the practice would schedule about 150 onsite visits in our community outreach clinic, and see about 120 of those patients. When Covid hit, those numbers went down by about 75%, and we knew that we had to increase our telemed visits. Before March, we had zero telehealth encounters. From March to May, we had scheduled over 509 telehealth encounters.
We noticed an interesting statistic: our typical no-show rate for in-person visits is about 28-30%, but with telehealth, the no-show rate went down to 15%. No-show, no-call was the standard for in-person visits — with telehealth visits, those who were no-shows were much more likely to call and cancel their telehealth appointments.
Via telehealth, we hosted webinars for patients with updates and for surgical patients waiting for surgery; we did preadmission planning and post-admission follow-up for OB patients; and we established office protocols to enhance the telephonic experience and what it looked like. We were able to do virtual rounding in our ICUs, and early hospital discharges with virtual follow-up, so instead of seeing a patient back in one week for a wound check, we could now have them show us their incisions with their phones, and do a virtual wound check. This took patients out of the 1-2 week follow-up and put them on the 4-6 week follow up, helping us reduce some of those in-person visits.
Reimbursement: Most of these telehealth visits have been accepted by insurance and billing, although I should emphasize that though they were accepted, I'm not sure how well we were reimbursed. While the patient experience was much better with TeVA, we need to ensure that we have the finances to support these clinical care efforts.
With Babyscripts specifically, we saw a huge uptick in enrollment — we offer the Platform and Schedule Optimization but we hadn't fully actualized its potential until Covid hit, when we truly optimized and enhanced our utilization.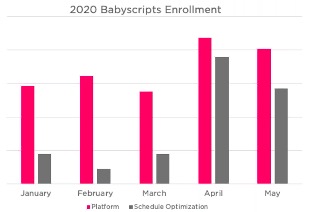 These increases in app health show that it can be done, and we're hopeful to use the enhanced connection to keep enrollment strong through the post-Covid phase.
Reimbursement: There's a lot of uncertainty around reimbursement for digital enhancements to women's service lines, especially around remote patient monitoring, but there's a lot of opportunity there. I know that Babyscripts has worked hard to get some type of reimbursement for remote monitoring as part of their business model.
Where We May Go: Post-Covid
There's a lot of political discussion right now about how we've handled the pandemic as a country — was this the right thing to do? The wrong thing to do? Leaders in science, medicine, politics, religion — everyone has an opinion. I tend to be more positive about things — I think we've done a very good job of managing a bad situation. I do believe that there are things that we can get from this crisis that we can carry forward to create healthier physician/patient relationships and also healthier patients.
We know that TeVA health is patient-driven — new solutions are out of the barn and patients do not want to go back on them, so they're expecting us to continue using them. I also have a lot of patients who want to come in and see me in-person — for them, TeVA is more of a convenience piece. It will be interesting to see how we balance those things moving forward.
TeVA will increase patient access to care, and increase the transmission of information back and forth between the patient and the provider.
We don't know yet whether TeVA will decrease hospital readmissions or ED utilization. We know that ED utilization fell during Covid, but so did lots of other things like driving cars and riding motorcycles. People weren't getting injured or experiencing trauma at the same rate. However, it's interesting to consider our current readmission rate, what could it be if we were able to do more remote patient monitoring and use TeVA health for those patients.
It has helped us develop personalized patient care models — particularly important for patients facing challenges like kids at home, a job, or transportation issues — we've had to consider how we facilitate a particular patient's experience with a view to their social determinants of health.
TeVA has definitely increased patient satisfaction to the point where providers do not want to go back, and our patients definitely don't want to go back. In fact, we are retooling some of our clinical care areas to accommodate uninterrupted telehealth visits. For example, as a matter of logistics, the people at the front end of the department need to have a way of knowing that those in the back are on video calls to avoid interruptions through a phone call.
The Role of Babyscripts
Babyscripts has helped with population health through improved data collection. For example, when we pushed out info about the flu and flu vaccine through the Babyscripts app, we saw a 70% increase in patients receiving the vaccine. If and when we get a COVID vaccine, we're likely to see the same kind of population health results, simply from the app pushing forward reminders and information about when and why to get a vaccine.
We've also learned through our use of Babyscripts that app health has increased quality of care, allowing us to diagnose problems earlier, and see patients and be more involved in their care from an earlier point. For example, one of the things we did doing the Covid crisis was to pre-screen every planned admission, so I knew if someone was coming in whether they'd been exposed to Covid, I knew what their symptoms were, I knew if they were sick — I knew the precautions that I could take as a healthcare provider when I brought them in, and I also knew if they needed to be rescheduled. These are some of the pieces that will improve the quality of care.
Final Thoughts
Watching the SpaceX launch during quarantine made me think about how far we've come since the first launch in the 1960s, and also how far we have to go. I think about that in terms of medicine. We are just at the point where we're ready to accept TeVA — to say this is important for urgent care access, this is an important way for us to introduce ourselves to new patient populations, and to accelerate patient populations interfacing with healthcare systems. This is a way for us to accommodate patient travel needs — we know that before Covid hit we were very much a traveling population, travelling in between states but also countries, and if that kind of travel continues we need to be able to promote better health.
Obviously TeVA enhances provider to provider communication, and the types of data points that they can collect, and also enhances communication between the provider and family and support person, like video visits during delivery that we implemented during Covid.
We know that TeVA can lead to enhanced disease process awareness, as I mentioned with the flu vaccine. We also need to know that it can be used for precautions as well as potential interventions — I'm thinking about tick and Lyme's disease season here in Pennsylvania. TeVA can be used to communicate precautions to take, what can be done if you get a tick bite, taking a picture of the bite and sending it to a provider, getting immediate serology testing, learning if you've been exposed to Lyme's, getting a pharmaceutical prescription to manage exposure.
Beyond preventative care, TeVA presents new ways to impact disease management and monitoring. There's all kinds of metrics and data to be derived from TeVA that will enhance the quality of care that we have and the quality of care that we give on a very personalized level.
The ways to impact disease are in monitoring, but also in the management and co-management that it facilitates, and the shared decision-making that happens between the patient and the provider.
Q&A
How important is it to have an app integrate with the EMR? .
We learned that the EMR can do things more efficiently — for example, electronic ordering of prescriptions — there is integration between the pharmacy and the provider and also integration between providers. So something like Babyscripts, which is an app that is integrated with our EMR, allows us to better monitor patients and also allows us to track how patients are responding to the content that comes through the app, so that we can identify what we need to enhance.
For example, if I know that a lot of patients are searching for information on the flu vaccine on an app like Babyscripts, I can then enhance that topic to give more information to patients.
Integration is also important as far as personalized care. Seeing when patients interfaced, what were their blood pressure or blood sugar values — what if a Fitbit integrated right into the medical record? Knowing how many steps a patient is taking every day could help the provider make recommendations for where they can be supplementing to help manage weight gain.
Has there been consensus from providers around TeVA and technology implementations?
We had a lot of providers who were naysayers, even with Babyscripts. They thought that patients wanted to see providers more, not less, that remote care wouldn't work. What we know now is that our patient satisfaction rates with app health and telehealth have skyrocketed — they've gone way up. And those are the ratings we use to give feedback to our providers about what they're doing to care for patients and how they're doing it.
A lot of the naysayers have changed their minds, and we're now building out areas in the office to allow providers to facilitate doing televisits. The one thing I will say is that patients and providers do like face time. The video portion of televisits has helped with that, but in-person is still important. But what if we could decrease the in-person visit to once or twice a year based on need, versus 4 or 5 times? It would save time and energy and money for everyone. We are gaining consensus that TeVA works but we're not quite at the point where it's universally accepted.
Do you look at the breakdown for utilization of TeVA by private payer or Medicaid?
In Reading we have a very large indigent population and a part of that is undocumented as well. We know that many of our patients have access to smartphone technology, but many of them are very suspicious about how we might use that access, so that's been a bit of a learning curve for us. As far as insurance providers and whether it's a public-assisted or private provider, we have not done the data analysis fully to see where we are, but have plans to do so.
Depression is a major concern for our practice. What are the best practices from a telehealth perspective to supporting perinatal and postpartum depression?
Mental health is a major issue, and of course the Covid pandemic increased anxiety as well as isolation and depression for many of our patients — not to mention the fear of getting Covid and what that could do to a pregnancy. One of the things that TeVA did for us was allow connectivity without exposure, so we were able to connect with really sick patients without them having to leave their home, which gave them back some of their security without having to sacrifice connectivity. The second benefit is really an information enhancer, so a lot of the FAQs that we have in Babyscripts talk about depression and gives resources to facilitate patients managing their depression, and TeVA itself has enhanced that relational connectivity as well from the standpoint of that. The potential to deal with mental health issues is there.
About Dr. Mark B. Woodland
Mark B. Woodland, MS, MD serves as the Vice Dean of Graduate Medical Education (GME), OBGYN Residency Program Director, Associate Director of the MIGS Fellowship and Director of the Women's Health Advocacy and Public Policy Fellowship for Drexel University College of Medicine (DUCOM)/Hahnemann University Hospital (HUH) in Philadelphia, Pennsylvania. He also represents DUCOM on the Group on Residency Affairs (GRA) of the AAMC. He is a graduate of George Washington University School of Medicine (MD), Villanova University (MS), and Ursinus College (BS) with Honors in Philosophy and Religion.
---
Don't miss any of our upcoming webinars! Subscribe to updates here.

Read more from our Virtual Care Resource Center full of best practices, market intelligence and customer highlights.