Last July, we spoke with Babyscripts mom, Deidre Winzy, after Babyscripts played an instrumental role in catching her preeclampsia and helping her identify stroke symptoms during her postpartum period. Now a year on from the birth of her daughter, we caught up with Deidre to learn how she navigated postpartum and is managing her health as a busy mother of three children.
Though Deidre relates her story with joy and is tremendously grateful to her care team and Babyscripts for helping her to safely navigate her birthing experience, her story is one that is fraught with complications, and unfortunately all too common for women in her demographic.
Deidre's story is most powerfully told in her own words. Watch the interview here:
Deidre entered her pregnancy with chronic hypertension, and was tasked with recording her blood pressure manually in a notebook before her health system partnered with Babyscripts and enrolled her in myBloodPressure: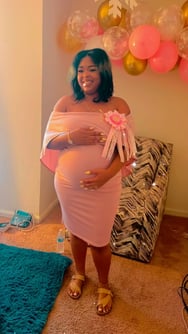 They introduced me to Babyscripts because they wanted something Bluetooth, so that every time I checked my blood pressure it would automatically go to my doctor. I still had to check three times a day, I just didn't have to log it anymore. They were able to see that my blood pressure started getting to stroke levels and that's when everything became a problem. My health just went crazy. Babyscripts really helped me out a lot because my doctors were able to keep track of my blood pressure and so was I.
At a time of high anxiety, Babyscripts' trigger alert system gave Deidre the confidence that her care team would intervene when things got out of hand:
If it was after hours or if it was on the weekend (and of course the doctor's office was closed), they would still get an alert, and they were able to call me and tell me 'Okay, we got your blood pressure, you need to go to the ER now.' They ended up inducing me…earlier than planned…because I became so high risk they became fearful of preeclampsia.
After a healthy delivery, Deidre continued to use Babyscripts to monitor her blood pressure. When she started feeling strange symptoms about a month postpartum, she checked her BP immediately: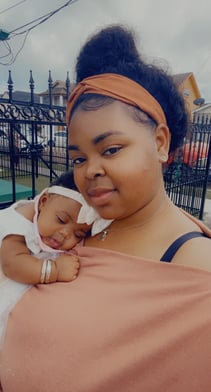 I had just checked my blood pressure and it was fine, but something just wasn't right. I felt disoriented, I felt kind of dizzy. So the first thing I did after that…was check my blood pressure. And it was fine. That's how I knew that something else was going wrong. I called for help and ended up in the ER -- I was in the middle of having a stroke.
Since suffering that first stroke, Deidre has experienced several more. She still struggles with high blood pressure, and continues to use her Babyscripts blood pressure cuff to monitor her blood pressure, even though she is no longer enrolled in the Babyscripts program:
[My BP cuff] has still been a very big help, because that's one of the big things that they always lookfor: is my blood pressure escalating when these strokes are happening? Is my blood pressure elevated before? During? I make sure I keep track of my blood pressure. Apparently high blood pressure is really a silent killer.
Deidre's story has a lot to tell us about the challenges facing mothers, especially those in underserved populations, and can give providers insight into the areas that should be priorities.
The most obvious is the prevalence of hypertensive risks. Women are now twice as likely to develop hypertension in pregnancy as their mothers were (and this is after taking the increased occurrence of geriatric pregnancies into account). Perhaps an even more more disturbing statistic, one in 10 women develop pregnancy-re
lated hypertension after their six-week postpartum checkup, which is when coverage ends for some, and recommended check-ups end for all.
This statistic especially highlights the importance of education about blood pressure starting in the prenatal period. Deidre had a really good understanding of her blood pressure and what her levels indicated:
Throughout my entire journey, thanks to Babyscripts, we were able to keep track of my blood pressure not just at the doctor once a month, but every day -- to see exactly what was happening, when was it happening, and why. Was it because of something I was eating, or because there was a problem? And that's how we found out that it was a health problem, because I was checking it multiple times a day.
The practices she learned during pregnancy are now established habits for Deidre, and she's very aware of the risks that high blood pressure can present long after childbirth.
And there is more to be learned from her story:
- The need for remote support that extends beyond the hospital.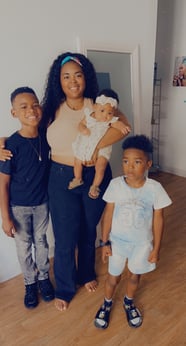 As a single mother, Deidre lacks a traditional support system. While she was on Babyscripts, knowing that the solution would alert her care team made her feel safe. Now as her stroke episodes have increased, the responsibility to recognize her symptoms and call for help has several times fallen to her nine year-old son. Many women in Deidre's demographic don't even have that level of support.
Deidre can no longer drive herself to the hospital because of a high risk of stroke. Working from home and taking care of three kids, the time she has to take care of herself is limited and complicated. Remote solutions that can deliver care asynchronously offer a critical safety net for women in similar situations.
- The need for compassionate caregivers that can minister to diverse populations
Deidre joyfully related that she has never felt a difference in her care because of her race, and speaks highly of her entire care team. She noted that her care team is very racially diverse, with two white midwives, an Asian GYN and a Black GYN taking care of her through her pregnancies. Unfortunately, not all women in her position have the same experience of their care. Process-oriented outcomes are important, but there is a critical need for personal care that is sensitive to lived experience.
- Understanding the greatest barriers to access -- they're not what you think
Against the prevailing narrative, lack of engagement with digital health in underserved areas is not because of internet access or data. Deidre had a difficult time reaching us for her interview because of connectivity issues, but that did not prevent her from being incredibly compliant with taking her blood pressure, logging her weight, and accessing the Babyscripts app to read articles about her health and her baby's progress.
The greater barrier to access and engagement is health literacy -- women will not engage with content that they can't understand and that doesn't feel relevant to their experience. At Babyscripts, we've made it a priority to make our content easy to understand, dynamic, and culturally aware, which empowers our mothers to feel involved and in control of their own health.