Black women are at higher risk than any other ethnic/racial group from the condition, accounting for 35.5% of cases compared to 27.7% of their white peers. They are more likely to suffer from blood-pressure related complications during pregnancy and postpartum, and at a higher risk of stroke in the postpartum period.
Despite two previous pregnancies, this was her first time experiencing severe blood pressure levels during pregnancy: "It was terrible! I had really bad morning sickness, fluid build-up, and my blood pressure was really high. I had had morning sickness before, but this is the first time I experienced all these symptoms."
Deidre's hospital, Touro, partners with Babyscripts to identify patients that could benefit from home blood pressure monitoring during both the prenatal and postnatal periods, when women are at high-risk for blood pressure complications.
[Read: Black Mothers Are Dying in the US]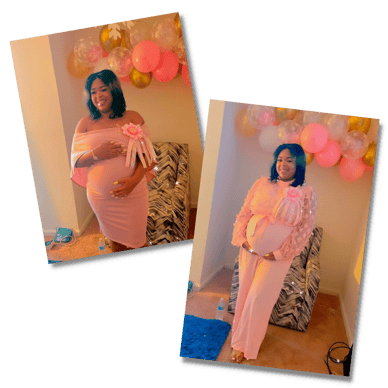 With Babyscripts myBloodPressure, Deidre was able to keep an eye on her BP levels from home, with the security of knowing that her provider was keeping track of them too. From the date of her enrollment at 21.2 weeks gestation, Deidre was extremely engaged with monitoring her levels, measuring her BP every day and sometimes twice a day, taking comfort in the knowledge that her provider would intervene if her readings were abnormal.
At 37.3 weeks gestation, Deidre's BP levels started to increase, accompanied by concerning symptoms. Alerted to seek medical attention, she was sent to Labor & Delivery at Touro with superimposed preeclampsia with severe features. She was given medication to manage her condition, and delivered a healthy baby girl.
For decades, the U.S. healthcare system has focused disproportionately on the health of the infant post-childbirth to the neglect of the mother, providing very little education in the postpartum period to alert the mother to her own health risks. Until recently, "postpartum resources" have mostly consisted of information on breastfeeding and safe-sleep practices. But a transition has happened through the partnership with baby scripts and Deirdre's healthcare partners focused her on continuing to manage her own health, in particular her blood pressure post birth.
Fortunately, advocates in the maternal health field are slowly shifting this mindset to provide more holistic care for mother and child after delivery. With around half of maternal deaths occurring in the postpartum period — and many of these caused by preventable, blood-pressure related complications — monitoring for BP has become an increasingly implemented solution in the postpartum period, and a strategy included in the AIM postpartum hypertension safety bundle.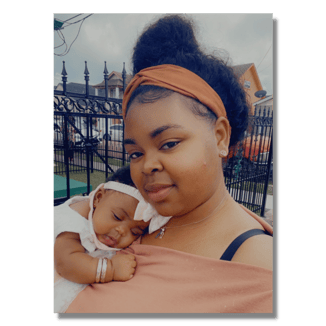 In Deidre's case, she and her care team at Touro were just as invested in her health post-birth, and she continued to keep careful track of her BP levels and symptoms with the oversight of her provider. At around 3 weeks postpartum, she started feeling off and checked her blood pressure levels. When her readings came back only mildly elevated, she thought that her symptoms must be stroke-related. She went to the ER where she did, in fact, suffer a stroke.
During her recovery, Deidre told her care team that she felt that Babyscripts was an integral part of keeping her safe during pregnancy and the postpartum period. Babyscripts supported Deidre in monitoring and tracking her BP levels and keeping her informed on what those levels and symptoms could mean for someone with her history and level of risk. Through Babyscripts, Deidre was not only able to identify her abnormal events, but she was empowered by the data to make important decisions about her health.
Incorporating remote monitoring into the care experience is an important step on the path to better outcomes. It allows providers to monitor trends that may not be visible during a normal visit. Involving patients in the management and control of their own health carries long-term benefits for themselves, their families, and the community, and contributes to a more holistic and sustainable approach to healthcare.
Ready to start using virtual maternity care tools to improve outcomes for your practice? Register for Babyscripts upcoming webinar
Catalyzing the Care Team: New Babyscripts features to help you focus on the patient