The Babyscripts team is fresh off the heels of a week-long, in-person company-wide summit. As a fully-remote company, we're daily navigating the ins-and-outs of fostering company culture, and this offsite was a first for us.
Fully-remote work has opened up a lot of opportunities for us as a company and for our employees — in many ways, it's enabled us to retain top talent and it's also contributed to the high levels of satisfaction with work/life balance that our employees report, a tricky statistic to maintain in the startup world.
As we chart these new waters, we want to share our takeaways with other companies who are thinking about taking the plunge to fully-remote or hybrid workplaces. Here are some of the highlights from our first company wide offsite:
DO make sure everyone is up to date with COVID protocol and have a system set in place to streamline info collection, like proof of vaccination or test results. Make expectations clear upfront, with plenty of time for employees to plan ahead. Employees will look for assurance that you are planning for their safety and we'll be more relaxed going in if they know what to expect.
DO block out time for individual team events. Trust is a building block for collaboration, and it's even more essential when you don't see your team members in person. And trust is built off of so much more than a working relationship — it's knowing the person outside of the work environment. Try to plan activities that lend themselves to conversation and communication about personal things — that require some level of collaboration. An activity can make it easier for shyer types to open up and engage — let's be honest, nobody likes small talk. Even just having a shared experience (like the time the bus driver left you and your team behind on a monuments tour…hypothetically) can create binding relationships.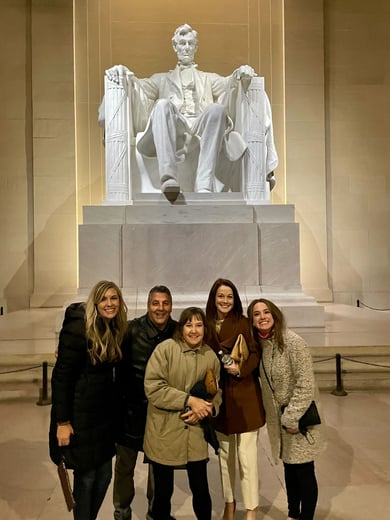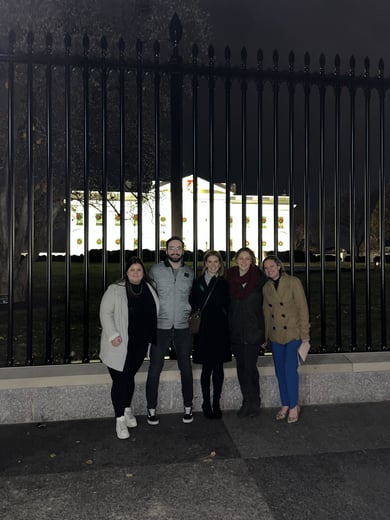 From L to R: Sales team members (and our favorite senior medical director) at the Lincoln Memorial; Marketing team at the White House.
DON'T restrict bonding events to individual teams — we gave the whole company something to talk about with our very own, real-time, Hot Ones interviews. Trust us, there's no quicker way to create friendships than asking personal questions while your employees feel their tongues go numb over hot wings.
DON'T schedule every minute of the day. Provide your employees with ample time for rest, exercise, maybe a coffee break. We facilitated this by scheduling all meetings and events at the hotel where we put up our employees. Remember that no one has been in a traditional 9 to 5 office setting in almost two years, and even simple interactions with people for several days in a row can be overwhelming and exhausting.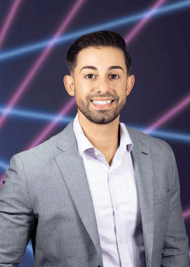 DO take advantage of being in person. Hand out awards, recognize employees for their achievements, schedule headshots -- our company has doubled in size since the start of COVID, and traditional onboarding activities like getting a new headshot have fallen victim to the realities of working virtually. We also pushed hiring timelines forward to get new employees incorporated into the mix.
(Left: Pranking employees with the rollout of our new retro headshot backdrops)
DO real work. A week is a long time in the business world, and deadlines are no respecters of team-bonding. Take advantage of in-person time to finish a sprint, address workflow issues, and gather real-time feedback from team members. Every item on the schedule should deliver value to your employees. Some of them traveled across the country to attend — don't hold a meeting that could have been an email.
DON'T keep teams in silos. This is a chance for employees to get a sense of how different teams can collaborate, and how each part of the company affects and is essential to the others. Encourage your employees to attend sessions led by other teams by not overscheduling their time. By the same token, make sure each session delivers real value to the company as a whole, and engages employees across teams. Hands on breakout sessions that pair employees from across teams is one way to encourage engagement.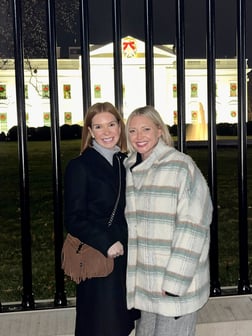 DO provide employees with a list of recommended local sites and attractions. We hosted our offsite in the nation's capital — our home base of Washington, DC — and many of our employees brought their families. For some of our employees it was their first visit, and we wanted to make sure they got the most out of it! Make sure to include latest COVID policies for the location with your local recs (e.g., advance reservations needed, mask requirements, or number limits).
(R: In front of the White House!)
DO celebrate! That should need no explanation. Send your employees back to their homes refreshed and excited to be a part of a company like yours, with feedback like this:
"So thankful for the experience of the past week and the incredible community at Babyscripts. We have a uniquely wonderful group of people at Babyscripts, and that's partially a testament to the leadership and the values that the company is committed to. I had so many great, non-work related conversations this week, and "team-building" activities felt like simply socializing with great friends. I can honestly say that I am REALLY excited for the next time we're all in person together again -- I'll be bringing the hot sauce 😉"
If an exponential increase in Slack chatter around inside jokes and personal anecdotes is any measure (and we think it is) -- we're putting this company offsite into the success column.