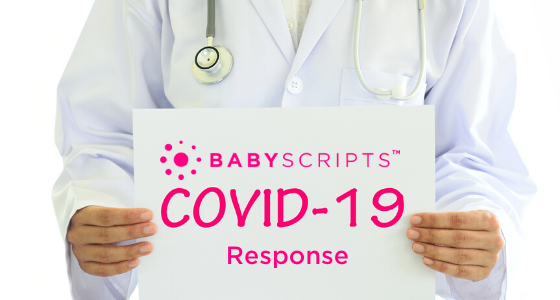 In the wake of WHO declaring COVID-19 a global pandemic and the President announcing a national state of emergency, our thoughts are with all those affected, particularly the vulnerable pregnant and new mothers whose health, safety and peace of mind are at risk and whose wellbeing is at the heart of everything we do.
In a crisis like the one we are facing, access to trusted information and continuity of care is crucial to managing anxiety and supporting pregnant and new mothers, who are especially vulnerable in times such as these, as their health is at greater risk and their normal responses complicated by their unique state of life.
As our clients have reached out to us for guidance on how best to support their moms, we've worked with them to immediately develop and deploy resources on COVID-19 and its implications to their patients. These resources have engaged patients at rates of nearly 100%, confirming how much mothers value trusted information from their providers.
As health systems experience an influx in admissions for COVID-19 and the CDC has called for pregnant mothers to take extra precautions, we've asked ourselves how we can extend help to all providers and patients — what we can do both to make sure that pregnant and new moms are getting access to resources and necessary care, and to support overburdened providers.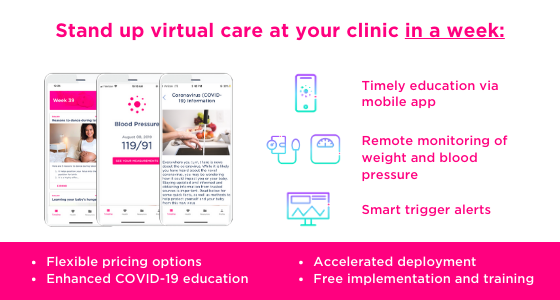 The President and others have recommended virtual care as a solution for the growing crisis. In our experience with our own clients, we have seen how effective our digital tools have been in providing essential services to patients; like monitoring of blood pressure, connection to social services, weight management, and access to trusted information; all while relieving the burden on providers by enabling continuous care from home.
In our sincere belief that digital tools are the best and most effective response to the spread of the virus, we have put together a COVID-19 response solution, to ensure that our current customers can take full advantage of our offerings, and we can bring on new customers quickly. We are offering:
Remote monitoring capabilities with flexible pricing options

Enhanced COVID-19 patient education for topics like COVID-19 symptoms, social distancing, where to get tested, etc.

Accelerated deployments to get virtual care up and running within a week

Free virtual implementation and training
We are here to support your organization and your patients and are working to be as flexible as possible to do so. Let us know if we can set up a quick call to discuss in more detail by emailing info@babyscripts.com.