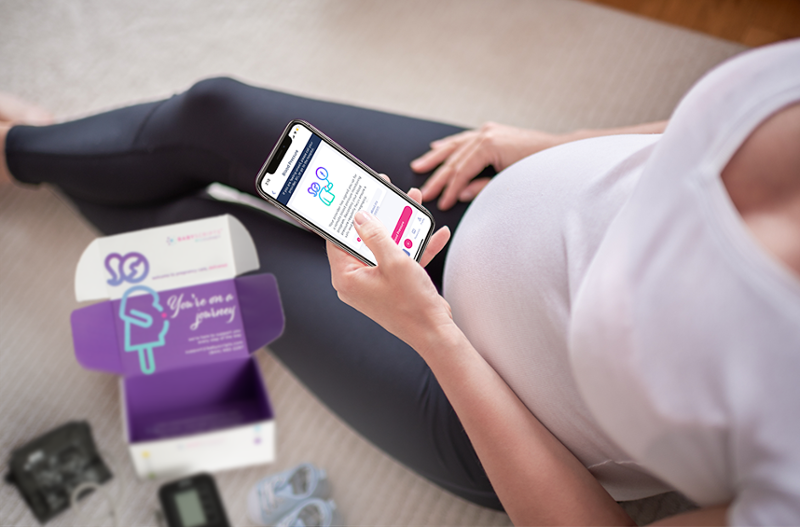 Hypertensive disorders in pregnancy are fast becoming the number one cause of maternal mortality and morbidity.
These hypertensive disorders can have a long term impact on the cardiac health of the mother. With the right tools, however, hypertensive risk is also one of the most manageable of maternal health complications.
The team at Babyscripts took our years of experience in remote BP monitoring, data, and provider and patient feedback to create myBloodPressure, a comprehensive solution that addresses the various pathways of hypertensive risk without disrupting the consistency of care.
Chun Wong, Director of Product Management, and Dr. Lauren Demosthenes, OBGYN and Senior Medical Director of Babyscripts, sat down to share details about how myBloodPressure improves care for patients, and helps providers comply with new recommendations for hypertensive care in pregnancy.
Read the summary below:
A Clinical, Research-Based Approach
Dr. Demosthenes led the implementation initiative of the hypertension safety bundle at her hospital. She also was a member of the team that advised on the recommendations for the Michigan Plan for Appropriate Tailored Health Care in Pregnancy Prenatal Care (MiPATH).
That research recommended a course of prenatal care that reduced in-person visits while supplementing with at-home monitoring. According to Dr. Demosthenes, that research isn't new. More in-person visits do not necessarily mean better care.
On the other hand, remote blood pressure (BP) monitoring can support better practices in the future (BP is one of the primary predictors of future cardiac problems), and helps patients meet ACOG's guidelines for postpartum care without the inconvenience and difficulty of returning to the hospital at a vulnerable time.
Sarah Sachs, a Babyscripts user, was alerted about her postpartum hypertension through Babyscripts. For her, postpartum monitoring was less about convenience and more about intervention for a risk of which she was completely ignorant.
"I didn't know what preeclampsia was, no one told me about it or mentioned it to me. My case was very rare — I didn't have high blood pressure during pregnancy or the first few days in the hospital. I know a lot about my health but I wasn't thinking about blood pressure — I've never had high blood pressure in my life. I wouldn't have caught it without the Babyscripts program.
I had horrible symptoms — bad headache, a few other symptoms — but people were telling me they were normal since I had just given birth. I was lucky to have a doctor at the other end telling me what I should be worried about."
Risk-Tailored Pathways & Patient Compliance
One of the core pillars in Babyscripts' product development is ease of use and accessibility. The solution is built to encourage compliance and patient engagement — a life can depend on how willing a patient is to use the app and how easy it is to use.
The primary goal of myBloodPressure is to detect the signs and symptoms of preeclampsia earlier to facilitate interventions. Preventing or solving preeclampsia is beyond the capability of the tools currently in existence, but with the Babyscripts programs we can improve the safety net to augment the detection rate of early signs and symptoms of preeclampsia.
The protocols change depending on the risk pathway (normotensive, chronic hypertensive, gestational hypertensive, postpartum hypertensive). With a one-size-fits-all approach you run the risk of alert fatigue, which is why we have separate protocols — our goal with each pathway is to record BP with just enough of a frequency to keep women safe without overwhelming them.
A Streamlined Provider Workflow
Depending on data recorded, the solution creates trigger alerts that are called into the provider's on-call line by the Babyscripts call service, so that a provider can make the appropriate recommendations to their care team. Babyscripts handles all of the pick, pack, and ship notifications for blood pressure cuffs — and there are step-by-step instructions in the app to inform women about how to use the BP cuff, be alert to false positives, and understand the implications of their data.
Babyscripts has supported BP collection for a long time, and with this recent product release has drastically improved the BP workflow based on feedback and data. The Babyscripts solution functions as the mouthpiece of the physician, reminding patients about the causes of false positives — strenuous exercise, caffeine intake, tobacco use — and reducing the need for physician oversight while still providing that continuous monitoring.
"The day I got home, when I started getting elevated readings, I was so tired and out of it — I would not have remembered to check my blood pressure, but the app kept dinging and annoying me. I'm a very proactive person about my health, but I wouldn't have been taking my measurements without the app reminding me." -Sarah Sachs
Seamless Transition Between Risk Pathways
Babyscripts designed the myBloodPressure to deliver consistency — one tool for various risk levels, to encourage compliance and engagement. So how does that work?
Let's take an example: A mom comes in for her first prenatal visit at 8 weeks gestation. She's enrolled onto Babyscripts myJourney and myBloodPressure, with no prior history of hypertension or chronic hypertension. At around 20-24 weeks, based on her BP data, she is diagnosed with gestational hypertension. At that time, she is upgraded to an experience that requires a tighter interval for monitoring — twice a day frequency. At 37 weeks, she delivers, and by virtue of being on a high risk module previously, on confirmation of delivery, she is enrolled onto the postpartum hypertension program. The important thing here is the consistency of her tools — she uses the same app and cuff — it's simply the experience that is different (ie, the prompts for frequency of BP recording).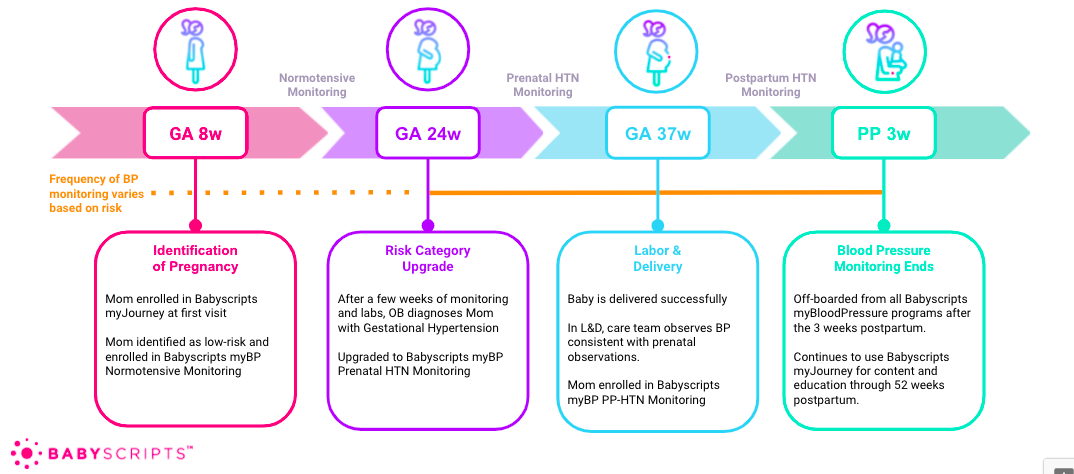 [Read Babyscripts' Blood Pressure White Paper]
Patient Satisfaction
Babyscripts' patients have been highly satisfied with the experience of remote monitoring — the solution empowers the mother to take care of her own health. The first step is not to call the office, but to take care of things herself. The solution also gives mothers the education and support to speak confidently about their symptoms and be heard by their provider.
As Sarah mentioned, "One of the things that people have pointed out to me is that if I had called on my own, I might have been listened to as a white woman at this particular hospital — but think about how many women are not taken seriously if they do call with a headache, or they're really tired. The app makes it more clear to the doctor that there is a reason for concern."
Q&A
How does the information get delivered to providers after hours?
It depends on the configured protocols — about 99% of our customers have set us up with their 24 hour triage line. We do recommend that patients take their BP during office hours, but we have systems in place to make sure that should there be an adverse event outside of that time, it will not be missed.
Can patients opt-out of notifications (that is, how do you prevent patients from turning off important alerts)?
We are very sensitive to alert fatigue — we do not want patients to turn off important notifications. We want to allow patients to be able to turn off notifications about education or other reminders, but there is no way to silence compliance notifications.
Does the solution need an internet connection?
It does require an internet connection to send triggers, but we are confident in the education that we give to patients so that even without an internet connection to automatically send a blood pressure reading to a provider, the Babyscripts user is aware that a data point is outside the normal levels and a cause for concern, and they can communicate that to their provider with confidence and assurance that they will be taken seriously.
Can physicians see all data points or just the exceptions?
We do not alert the providers to every data point — we've tried to avoid the need for a provider to sift through endless amounts of data while still permitting users to record their blood pressure levels as often as they want. However, all the data points are always available to the provider either in their dashboard or directly in the EMR if they choose to look at them.