Identify Hypertensive Disorders Earlier
Babyscripts Blood Pressure Monitoring
An intelligent, end-to-end remote monitoring solution with everything you need to manage blood pressure for maternity patients, including configurable programs specific to risk level; a smart trigger system to combat alert fatigue; and optimized workflows designed for Obstetricians.



The right data at the right time
Providing Greater Health Insight for Providers & Moms
| | |
| --- | --- |
| | Antenatal & Postpartum Programs: Tailored monitoring schedules, trigger thresholds specific to risk type, & in-app non-compliance reminders |
| | Symptom Logging: Symptom tracking alongside BP monitoring to help identify elevated risk |
| | Automated Triggers: Triggers & escalations for elevated & critical BPs sent directly to your clinic |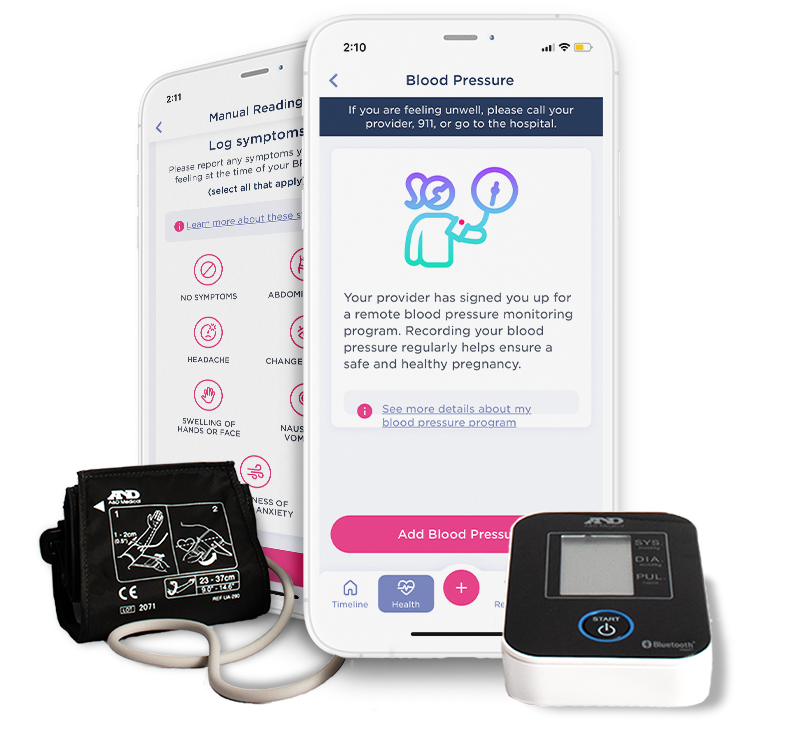 HCP Facing Dashboard:

Timely data flow and non-compliance triggers back to providers to monitor & manage BP

myJourneyKit for Patients:

BP cuff shipped directly to patients, available in different sizes

BP-Specific Patient Education:

Resources to keep patients educated about BP thresholds & elevated risk symptoms
The Most Intelligent Blood Pressure Monitoring for
Seamless BP Monitoring + Management Across the Pregnancy Journey
EHR Integration:

Multiple options to pull clinical observation data into your existing workflows (including EPIC, App Orchard, Cerner, eClinicalworks, Athena Health, Redox, Xealth)

Schedule Optimization:

Optimized schedules based on risk and enhanced with remote monitoring of BP to reduce in-person visits in accordance with MiPATH Guidance.
Analytics & Outcomes Reporting:

Provider-facing reports to share patient and program outcomes and metrics in conjunction with robust trigger management and exception reporting system, providing actionable insights and minimizing alarm burden.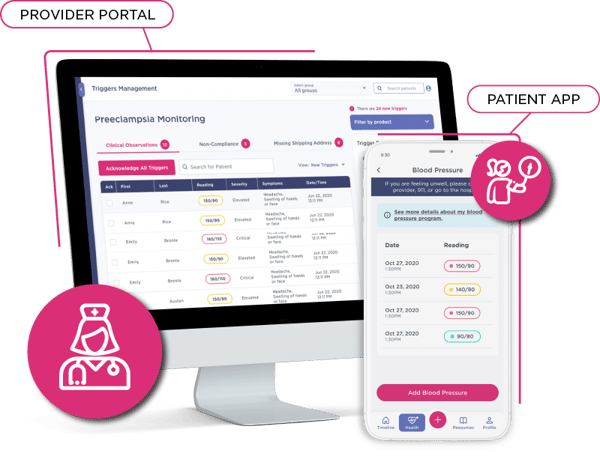 Empower Patients & Drive System Loyalty
Give Doctors the Data, Give Patients Confidence
Empowering Providers
Engaging Mothers

"On our weekly MFM Huddle Call one of our Nurse Practitioners shared a success story for a mom and baby. We had a mom that was being seen in one of our MFM clinics and at [the pediatric acute care hospital] for the needs of her baby while in utero. Initially she was not compliant with her visits and once enrolled in Babyscripts we were able to monitor her blood pressure. Shortly after enrollment, the Babyscripts team began monitoring her and we identified that her blood pressures were not within a safe range. She ended up being brought in early due to her blood pressures, safely delivered her baby, and her baby was able to receive the proper care needed post delivery at [the pediatric acute care hospital]."
- Nonprofit network of healthcare providers in Southern Louisiana

"I love that my doctor has access to my weight and blood pressure each week, it makes me feel more comfortable and safe with my pregnancy. I also love that when I have a question I can usually look here first for a doctor-approved answer rather than googling or trying to find the answer on my own."
- Babyscripts Mom
Make more informed clinical decisions
Get Started with Babyscripts
Bridge the access to care gap by leveraging digital technology to improve care coordination and achieve better maternal health outcomes.