Improve Maternal Health
Remote Patient Monitoring
Seamless virtual management of pregnant patients across their pregnancy journey through remote monitoring for blood pressure. Real-time data collection and exception monitoring for antenatal and postpartum blood pressure across risk categories:
Normotensive
Chronic Hypertension
Prenatal Hypertension
Postpartum Hypertension
Seamless Blood Pressure
Monitoring & Management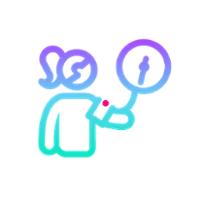 Risk-Specific Workflows
Remotely monitor all patients with unique workflows based on patient's clinical and social risk, to tailor prenatal and postpartum care to individual patient needs.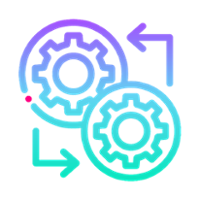 Exception Monitoring
Avoid data overload and identify actionable real-time data with our trigger expertise and exception reporting system so you can intervene when your patients need it most.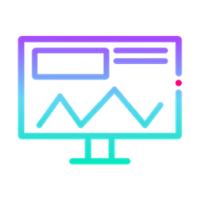 EMR-Integration
Enable deeper coordination between Babyscripts and the EMR with our set of EMR-integrated standard and advanced workflows, allowing you to do what you need to in the fewest clicks possible.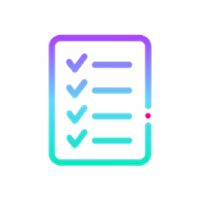 Compliance Automation
Drive patient engagement, sustained compliance, and adherence to measurable outcomes through our technical infrastructure.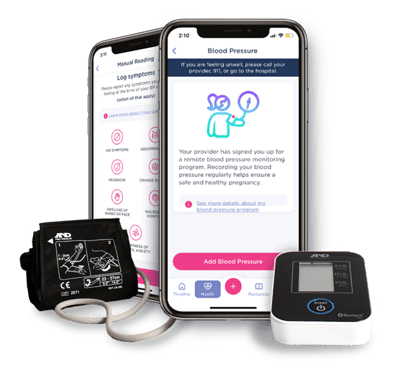 enabling risk management & intervention
Detect Pregnancy Complications Earlier
Patients monitored for blood pressure are provided with an FDA-approved, bluetooth-enabled BP cuff to monitor for elevated risk. Babyscripts monitors BP readings, alerting the provider of any BP reading in an abnormal range through a unique trigger system. This end-to-end management of patients enables the provider to transition care outside of the clinic and address problems of access, allowing them to automate a majority of their patient care while more effectively allocating time and resources to higher risk patients.
Robust Trigger Management
Maternal Health Monitoring
Babyscripts remote monitoring for blood pressure utilizes a smart trigger system that evaluates the data collected, including signs & symptoms, to identify elevated risk. BP readings collected outside the normal range are communicated directly and immediately back to the provider, enabling real-time interventions and reducing complications like White Coat Sydrome. Patients also receive:
Compliance reminders
Notification of trigger escalation
Comprehensive education
Notification of updates to monitoring protocol
"I love that my doctor has access to my weight and blood pressure each week, it makes me feel more comfortable and safe with my pregnancy. I also love that when I have a question I can usually look here first for a doctor-approved answer rather than googling or trying to find the answer on my own."
- Babyscripts Patient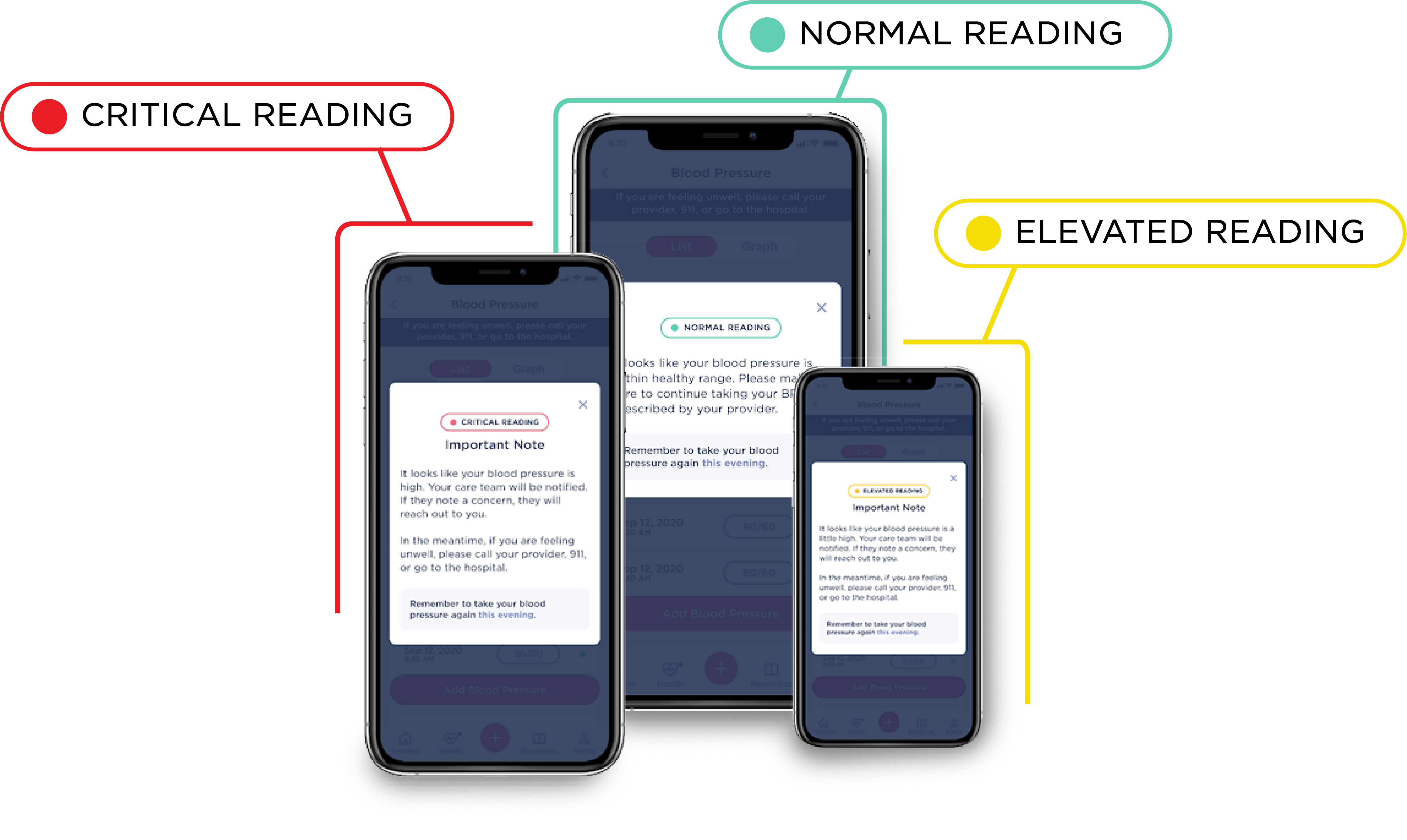 Reduce Physician Burnout
Decrease Readmissions & Maternal Complications
Enhancing in-person care through remote monitoring enables practices to implement a reduced in-person visit schedule of 4-6 visits during the prenatal period (through term) compared to the standard 12-14 template endorsed by the IOM in 1985. This optimized schedule template varies by practice and reimbursement policies, but on average allows practices to safely reduce the number of in-person prenatal care visits by more than 60%, without compromising patient satisfaction rates, patient/provider relationship, reimbursement of the global fee, or impacting outcomes.
Enterprise Class Integration and Analytics
Physicians & Health Plans
Integrations
With the increased resolution of timely biometric feedback, it's essential that providers be able to access patient data from where they work. Babyscripts is committed to offering all provider-based workflows, directly within the EMR.
Current integrations include: Epic App Orchard, Athena MDP, Redox, Xealth, HL7 and more. For more information or questions about our integrations capabilities contact info@babyscripts.com.
Configurability
Babyscripts myBloodPressure gives providers robust configurability options for specific hypertension risk groups.
Configure escalation methods/pathways. With our advanced workflows, you will be able to segment your patient population based on patient diagnosis and risk allowing for more refined BP RPM protocols.
Quickly and easily review triggers using the intuitive dashboard, where patients are grouped by risk and severity.
Configure required frequency of BPs based on risk category, customer group, department, etc.
How do CPT codes work for RPM?
What is Preeclampsia?
Preeclampsia is a serious blood pressure condition that can happen after the 20th week of pregnancy or after giving birth (called postpartum preeclampsia). It's when a woman has high blood pressure and signs that some of her organs, like her kidneys and liver, may not be working normally.
Most women with preeclampsia have healthy babies. But if it's not treated, it can cause severe health problems for you and your baby.
What is Hypertension?
Hypertension is high blood pressure.
Some women have high blood pressure before they get pregnant. Others have high blood pressure for the first time during pregnancy. About 8 in 100 women (8 percent) have some kind of high blood pressure during pregnancy. If you have high blood pressure, talk to your health care provider. Managing your blood pressure can help you have a healthy pregnancy and a healthy baby.
How do I sign up for Babyscripts?
Babyscripts is only available through your healthcare provider. Your provider will sign you up for the program at your prenatal office visit, and you can immediately download the mobile app for your iPhone or Android device.
Meet patients where they are
Equalize Care
With access to Babyscripts myBloodPressure, patients can speak accurately about their condition, assigning a data point to the symptoms they're experiencing. They can communicate the emergency of their condition in clear terms to their provider, and receive the appropriate response. Babyscripts myBloodPressure also captures data from patients who may not attend every appointment, a more frequent occurrence for patients on Medicaid often caused by barriers of access. Remote patient monitoring opens access to care for these patients, and opens appointments for the provider team to be able to treat the most acute patients.
Schedule a Demo
Make the transition to
Virtual Maternity Care
Improve maternal health outcomes, drive patient engagement, increase patient satisfaction and foster health system loyalty.