We know that the decision to deploy a digital health tool for maternity care is driven by many factors. Most practices are hoping to do some or all of the following:
Reduce health inequities

Increase access to care

Improve patient engagement

Drive visit adherence

Improve outcomes

Help brand loyalty, and

Attract new patients who may prioritize practices that implement virtual solutions.
The first step toward accomplishing these goals is to inform the consumer-market about a new tool — failing to market a tool is failing to maximize the potential impact that it can have on your patients. So how do you do this?
"When researching new providers online, 60% of consumers consult a healthcare organization website and 52% visit a health plan website (+12% vs. 2020)" - Strategic Healthcare Marketing
Start with your website. Do you have a list of obstetric services on your website? This is likely the first place that a new or potential pregnant patient will look when choosing a maternity care provider. Add your new tool to the list of available resources. Patients value having options for their care, and a digital health offering can be the deciding factor for a patient who is shopping for a practice.
👀 See how this customer highlights Babyscripts on their website
In addition to hosting an announcement of your new tool on your website, making use of social media channels and informing local press is an easy way to market your solution. You don't have to be a big health system to get the word out.
Below, we've highlighted some simple, cost-effective strategies to make the most of the resources that you have available and increase patient awareness of your product
Work with your vendor. Your vendor should be a first go-to — it's in their best interest to help you spread the word about your new partnership, and they often have resources already in place to support their clients. They can provide you with written copy, links, and images you can use to share on your website or social media; press release templates; design templates for patient collateral; or educational brochures for your providers.
💡TIP: Ask Babyscripts for our media packet, a kit of all the resources you need to streamline the process of promoting our solution, both for the providers who will be recommending it as well as the patients who will be using it.
Educate your staff. Your staff is one of your greatest assets for spreading information about your new product, so take the time to give them all the details necessary to be good ambassadors— tell them why you chose to implement the tool at your practice, how it works, how it will affect their workflow, and what results patients can expect from using it. Without clinical buy-in, a tool is unlikely to get into the hands of patients.
💡TIP: Post an announcement of your new product on the company intranet or send in a group email. Talk to your vendor about hosting office hours, an informational webinar, or an in-person workshop to get providers up to speed with the new product and encourage their investment.
👀 Did you know that our Customer Operations team hosts office hours? Access recordings here.
Use social media. The demographics of pregnancy are shifting — soon, women of reproductive age will only have known life in the digital age, and that will inform how they consume information, and from whom. To meet the changing needs of patients, healthcare providers are embracing nontraditional ways of sharing medical advice and practice info, through (free!) social platforms like Twitter, Facebook, Instagram, and Reels/TikTok and with dynamic content like videos.
👀 Check out this customer's Facebook video introducing Babyscripts to their patients.
💡TIP: Make sure to tag your vendor in social posts (👋 @Babyscripts) so that they can repost/share and increase your exposure.
💡TIP 2: Leveraging these platforms is even easier with free, intuitive social media management tools like Canva, Hootsuite, and Buffer that make it easy to publish professional and engaging content on your own time.
📅 TIP 3: Post during popular maternal health holidays like these: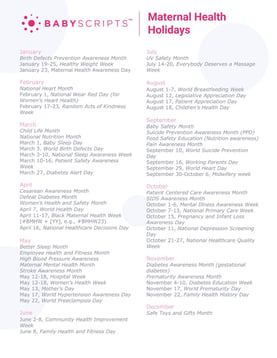 Tell the press. Reach out to local television, radio, and news media to let them know that something big is happening in the community. Focus your efforts on the newspapers that cover your county and the surrounding region, the radio stations that broadcast to your target demographic, and local television stations — every major network has a local affiliate that is actively looking for local programming. All of these outlets have a website with contact information: prepare a pitch or press release before you reach out. If you have a small marketing team, reach out to your vendor for copywriting help and leverage their existing relationships with news media.
👀 Read this coverage from a regional paper on Babyscripts at a local FQHC
💡TIP: Press outlets love a personal angle on a story, or evidence of traction of a solution. Consider publishing a press release a year into a partnership with a patient story or data on the success of the solution, like this one.
Talk to your patients. Do your patients love the new product you've prescribed? Use their feedback! Ask a patient if they will provide a quote for your website or give a testimonial that you can post on social media or incorporate into a pitch or release for local press.
Above all, keep your message consistent. Make sure that the language, images, and presentation of your new product is the same whether it be a poster in your office, a banner on your website, or a spread in the local paper.