Thirty-six percent of counties in the U.S. are maternity care deserts.* Another 10 percent offer severely limited access. Is there anything we can do about it?
A county qualifies as a maternity care desert if it has no hospitals providing obstetric care, no birth centers, no OB/GYN and no certified nurse midwives.
For a long time, the nation has been putting band-aids on the problem of maternity care deserts, propping up the existing system with temporary fixes, but the problem shows no sign of resolving. And it won't resolve until we recognize that the issues at its heart are not temporary aberrations but reflective of a deeper sea change. We need permanent solutions to meet demographic changes.
A Declining Birth Rate
The U.S. birth rate is in steady decline. Women are having less children, and they're having them later in life, automatically putting them into a higher risk category. This is especially a problem for rural hospitals, who are in danger of not meeting the required number of deliveries per year to meet safety standards. Many of them are forced to shut down their maternity wards as a result.
A steadily declining birth rate also means that not enough children are being born to replace the Baby Boom generation as they hit retirement age, feeding a growing physician shortage.
Financial Disparities
Even if physician numbers were at replacement levels, the cost of education and massive student loan debt pushes new doctors to higher salaried positions, typically at hospitals serving a wealthier demographic. These hospitals also have more to offer new doctors in terms of equipment, support, and quality of life.
Hospitals in underserved areas serve a majority of Medicaid and non-insured patients, upwards of 60% of patients. This makes it harder to keep the doors open on maternity wards, whose cost of upkeep can be substantial. If a significant proportion of patients are uninsured or have lower-paying insurance plans, it can impact the financial health of the practice.
Maternity patients in underserved areas can also face higher risk due to socioeconomic challenges and lack of comprehensive and adequate care, leading to extensive medical interventions or complications, which also strains resources and affects revenue.
[Interested in learning more? Click here for more resources on maternity care deserts]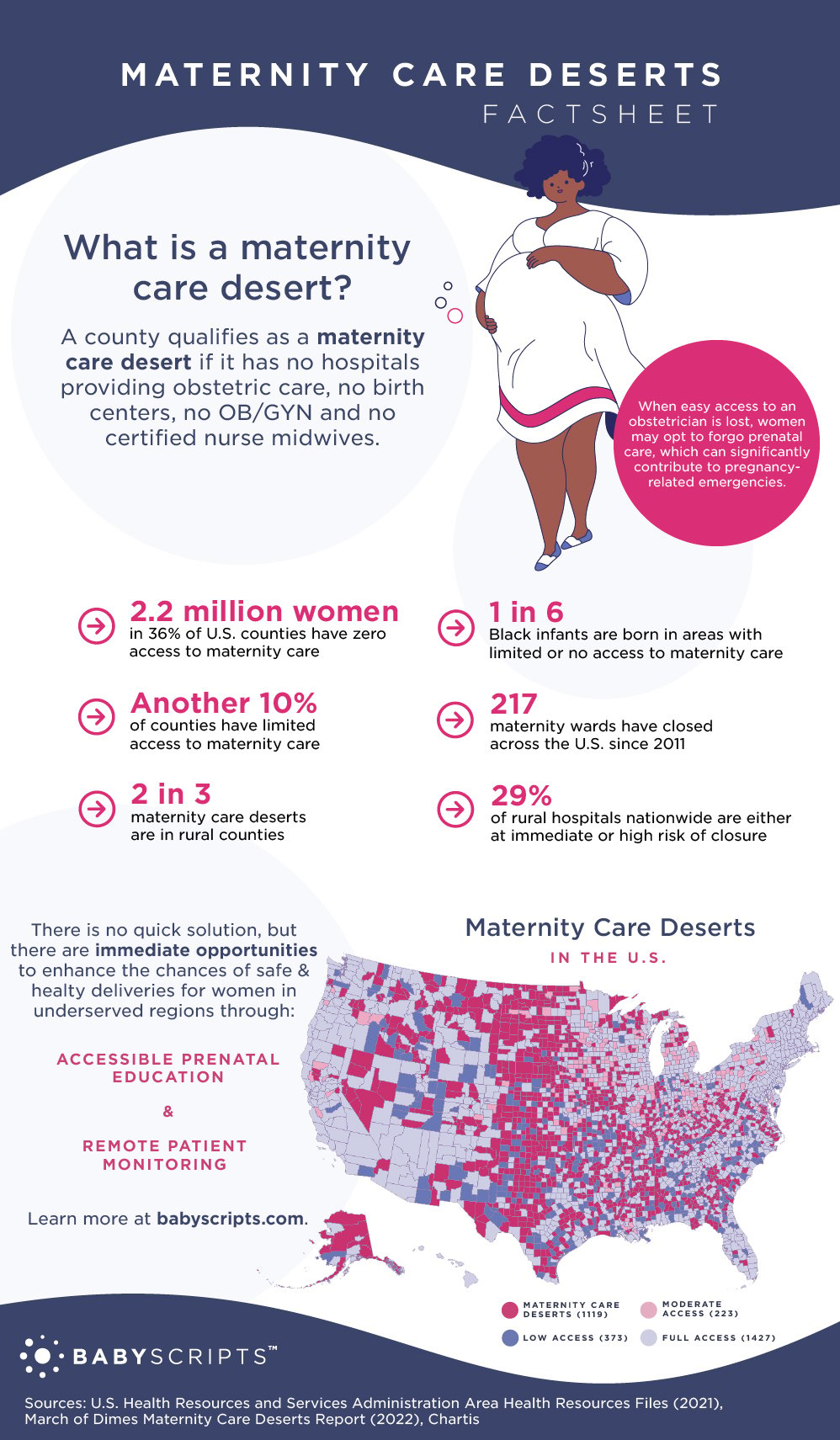 So what can be done? First, better band-aids:
Education reform. Implementing a tuition remission program for doctors, where education costs are reduced or eliminated in exchange for dedicating a certain number of years to serving in underserved areas, could incentivize more physicians to practice in these areas.
Simplifying the funding application process. One way the government has responded to financial need is through grant funding to close revenue gaps. While some gatekeeping is certainly necessary, the process to apply for this funding is extremely complex, frequently occurs in a tight timeline, and requires dedicated and informed staff that many of the most needy and deserving practices simply do not have. The government needs to simplify the process and take a more supportive role in helping eligible practices apply.
Incentivizing Medicaid capture. Several states have implemented pay-for-performance structures that reward health plans and providers for meeting quality standards in their Medicaid populations. This is a viable strategy for pregnancy care, which benefits from being a defined episode with well-established care measures.

Second, digital health:
Initially, digital health solutions were seen as temporary measures implemented during the pandemic. But the industry has since reassessed their value, as they've demonstrated sustainable positive effects on the quality of care and accessibility issues. Here are some ways in which Babyscripts is supporting better maternity care:
Remote support and connection to a provider. With remote patient monitoring through Babyscripts, providers have direct and real-time access to vital data outside of the office from their maternity patients, who might struggle to attend appointments due to distance or social determinants of health risks.
Accessible and trustworthy education: With education and tracking tools delivered through the Babyscripts mobile app, women are empowered to make healthy choices and manage their pregnancies better, at their own pace and in the convenience of their own home.
Shared health information: Implementing Babyscripts as a digital front door can make it easier for hospitals and doctors in different areas to share important information about patients. This helps in coordinating care and making sure that women with high-risk pregnancies get the right help from specialists.
Collaboration between hospitals: Babyscripts can support partnerships between hospitals or practices that have no L&D unit, and the hospital where a pregnant patient will deliver her child. Through Babyscripts, providers at the hospital of delivery and their affiliate practices can offer convenient and accessible prenatal care education to support mothers in the steps toward a healthy pregnancy and educate them on potential warning signs and symptoms.
With remote patient monitoring through Babyscripts, providers can anticipate, identify and manage potentially life-threatening complications before they become emergencies, directing expecting mothers to their affiliate practices or to their own maternity ward depending on the necessary care response.
Using data for better care: With a wealth of data collected from 9+ years in the space and over 250K annual pregnancies under contract, Babyscripts provides crucial insights into population health. This information helps doctors identify risks and take preventive measures to improve outcomes for pregnant women.
By combining these approaches, we can make progress in reducing maternity care deserts and ensure that all pregnant individuals have access to the care they need.
---
To learn more about how digital tools are increasing patient engagement for underserved populations, join the Babyscripts team and Dr. Mark Rosing, MD, MPH, FACOG and Chair of Obstetrics at SBH Health System, for a webinar on August 23 at 12PM ET: Patient Engagement Strategies to Reduce Health Disparities.