In the face of the urgent demands of the pandemic, aided by relaxed regulations and expanded reimbursement codes, many health systems transitioned to remote care by whatever means possible, scrambling to avoid dangerous gaps in care.
Now that the dust is starting to settle, practices are assessing their Covid solutions for scalability and sustainability. Video visits have been the low-hanging fruit in transitioning to remote care, but as practices navigate the logistical barriers of a world without a Covid vaccine, they need to look beyond video visits to a more comprehensive digital strategy.
Froedtert and the Medical College of Wisconsin, a strategic partner of Babyscripts and a health network that includes five hospitals, nearly 2,000 physicians, more than 40 health centers and clinics, and operates eastern Wisconsin's only academic medical center, has introduced several strategies to sustainably navigate the changing landscape of care for their maternity patients.
One strategy has been to increase the digital touchpoints between patients and providers, by ramping up their use of remote monitoring. In May of this year, the Froedtert & MCW health network enrolled 79 patients for remote monitoring and 561 patients for education through the Babyscripts mobile app, a 27 percent increase from the previous month. Enabling their maternity patients to remotely monitor biometric data like weight and blood pressure allows providers to measure healthcare interactions outside the space of a visit, whether in-person or remote, bettering health outcomes through increased patient engagement.
Significantly, the data that's captured can be shared directly with providers through the patient's electronic health record, streamlining provider workflow and thereby increasing the sustainability of the solution. To drive this efficiency, the Froedtert & MCW health network recently integrated Babyscripts via Xealth, a leader in enabling digital health at scale. The integration has accelerated the organization's rollout of the virtual maternity care plan and given care teams new insight into patients' program enrollment and engagement.
The Xealth integration was enabled by the health network's upgrade to the newest version of the Babyscripts experience. Until May, the Froedtert & MCW health network was using the legacy version of the Babyscripts app, and slowly migrating to the 2.0 version. Spurred by the pandemic, they expedited the migration to facilitate integration and so that they could deliver a highly customized and branded app experience to their patients, giving them access to new functionalities and the most up to date information around COVID-19 and changing policies.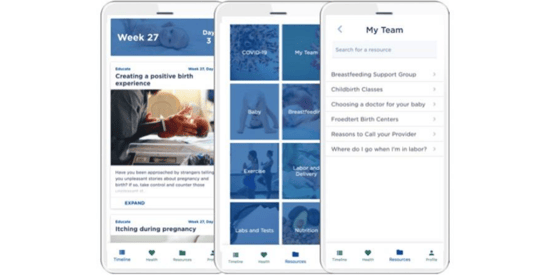 Of course, a comprehensive, sustainable digital strategy will also take into consideration the bottom line, especially as newly expanded reimbursement codes are reevaluated post-crisis. It will also evaluate the efficiency of the solution. If a digital tool is not self-sufficient — if it creates a need for more hands and more materials rather than reducing and streamlining workload — it's not sustainable, particularly in the current landscape in which hospitals are operating on razor-thin margins and feeling the effects of a nationwide physician-shortage.
On September 17 at 12pm EDT, we (virtually) sit down with the leadership at Inception Health, the digital innovation arm of the Froedtert & MCW health network, to discuss their strategy for implementing sustainable virtual care models.
Join the conversation and hear insights from Michael Anderes, Chief Innovation and Digital Officer at Froedtert Health and President at Inception Health; and Kelly Stevenson, Senior Manager at Inception Health, on
Taking a sustainable approach to innovation
Creating impactful and scalable digital health solutions
Developing new care models for and during a Covid-world.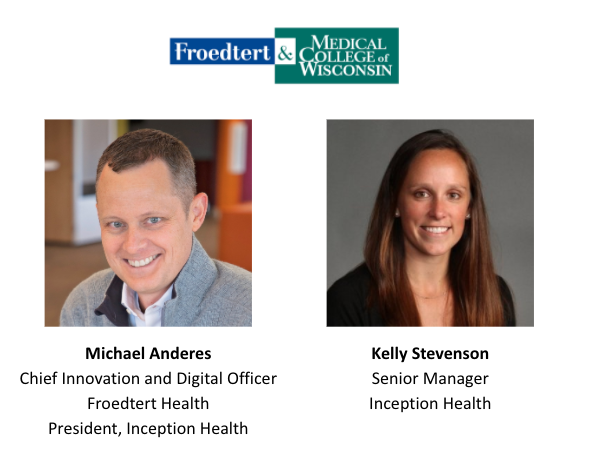 The Froedtert & MCW regional health network supports a shared mission of patient care, innovation, medical research and education that positions it as a leading voice in the field of virtual care, and one particularly qualified to speak on the questions that are facing maternal healthcare right now.