Press Release:
CLEVELAND (PRWEB)
JULY 13, 2021
University Hospitals and Babyscripts, the leading virtual care platform for managing obstetrics, are collaborating to provide expectant mothers access to the Babyscripts myJourney app during the entirety of their prenatal journey and beyond. The effort is aimed at bridging the digital divide, reducing maternal health inequities, and targeting maternal mortality and morbidity rates by enabling OB-GYN and midwifery practices across the UH health system to offer virtual care experiences during pregnancy and postpartum.
"Maternal mortality and morbidity rates in Ohio are only slightly better than the national average, which is shockingly high, and women of color are suffering the most," said Patti DePompei, RN, MSN, President, UH Rainbow Babies & Children's and UH MacDonald Women's hospitals. "We're committed to delivering the highest quality prenatal and postpartum care to all our expectant moms and their babies, and this technology can help us bridge that gap."
Through the Babyscripts platform, UH patients have access to the myJourney app, which delivers gestational age-appropriate educational content, email campaigns, satisfaction surveys, and weight monitoring; as well as evidence-based guidelines approved by the patient's caregiver in the form of daily nutritional, medical and lifestyle action items. The app follows the patient through their child's first birthday.
This program reflects University Hospitals and Babyscripts shared commitment to reduce systemic racial and ethnic inequities in both maternal and infant outcomes in Ohio. Black women in Ohio are 2.2 times more likely to die from childbirth than their white peers, are more likely to experience severe maternal morbidity, and experience preterm birth at a rate 48% higher than their white peers. Additionally, the pandemic has significantly changed the landscape in which pregnant women seek care and broader support during their pregnancy, exacerbating existing barriers to care for minority women.
"Data tells us that it was more dangerous to give birth in 2019 than it was in 1999, particularly for Black women. Healthcare cannot be excellent if it is not equitable," said Nancy Cossler, MD, OB-GYN, and Chief of System Quality for Obstetrics for University Hospitals. "It is our hope that through this advanced technology and remote monitoring, adverse outcomes can be prevented and ultimately save the lives of mothers across our region."
"We've long known the benefits of technology for delivering equitable care, but the pandemic has given stakeholders the necessary push for widespread implementation," said Babyscripts co-founder, "University Hospitals is seeing the opportunity to deliver high-quality pregnancy care to all their patients, especially the underserved, and we are excited to support them through our technology."
Babyscripts has spent the last six years building a clinically-validated, virtual care platform to allow OBGYNs to deliver a new model of prenatal care.
About Babyscripts
Babyscripts is delivering a new model for prenatal and postpartum care that is transforming the way expectant mothers use technology to work with their healthcare providers. We've spent the last six years delivering the most-implemented mobile clinical solution for remote monitoring in pregnancy, with the mission to eliminate maternal mortality and improve access to care for all mothers. Babyscripts was named to the 2020 Digital Health 150, CB Insights' annual ranking of the 150 most promising private digital health companies in the world. For more information on our virtual care solution and to request a demo, visit http://www.babyscripts.com.
About University Hospitals Rainbow Babies & Children's Hospital
Internationally renowned, UH Rainbow Babies & Children's Hospital is a full-service children's hospital and pediatric academic medical center with experts in 16 medical divisions and 11 surgical specialties who offer nationally ranked care not available at other institutions in the region, including a center dedicated to adolescent and young adult cancer treatment and Northeast Ohio's only single-site provider of advanced maternal fetal medicine and neonatology services. As an affiliate of Case Western Reserve University School of Medicine and the only Level I Pediatric Trauma Center in the region, UH Rainbow Babies & Children's Hospital offers access to novel therapies, advanced technologies and clinical discoveries long before they are available nationwide. Rainbow pediatric specialists – all of whom also serve on the faculty at the School of Medicine – are engaged in today's most advanced clinical research and are widely regarded as the best in the nation – and in some specialties, the best in the world. Learn more at UHRainbow.org.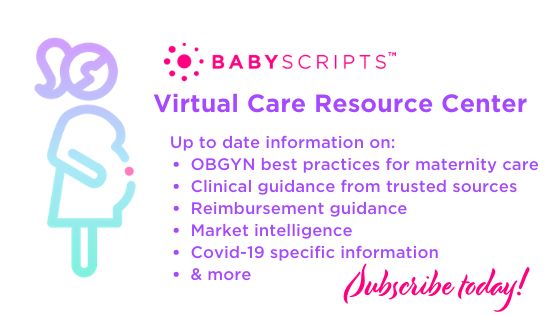 Best practices, customer stories, market intelligence all in one place.
Babyscripts's clients can take advantage of
RPM CPT codes to provide virtual prenatal and
postpartum care and explore reimbursement
opportunities with payer organizations.