Press Release:
Washington, DC, August 17, 2021
Babyscripts, the leading virtual care platform for managing obstetrics, announced today that they are entering into an agreement with Privia Health, a technology-driven, national physician enablement company that collaborates with medical groups, health plans and health systems. Through this collaboration, Privia Health will sponsor the use of Babyscripts to their providers across the nation, enabling physicians with Privia Women's Health to deliver cutting-edge pregnancy care to their pregnant and postpartum patients. In conjunction with the expansion, Privia will work with payers to improve care coordination through Babyscripts' virtual maternity care solution and detect risk faster, decrease costs, and improve outcomes.
Pregnant patients who receive care from the more than 300 Privia Women's Health providers will have access to the Babyscripts myJourney app and remote monitoring solutions during the entirety of their prenatal journey and beyond. The collaboration is aimed at bridging the digital divide, reducing maternal health inequities, and targeting maternal mortality and morbidity rates by enabling Privia Health physicians to offer virtual care experiences and remote patient monitoring to their pregnant patients.
"According to the CDC, sixty-percent of maternal deaths are preventable. We need to have a consistent strategy that addresses all patient risks and involves all stakeholders in order to drive that number down to zero," said Montague, Melissa, Vice President and General Manager, Privia Women's Health and Pediatrics. "For Privia, that means offering our providers access to cutting-edge maternity care capabilities to support their patients outside of the office, from the moment a mother finds out she's pregnant to a year after childbirth, which is when so many women fall through the cracks in our healthcare system."
The collaboration with Privia Health involves the delivery of the Babyscripts platform to mothers receiving prenatal and postpartum care at participating physician groups, providing remote patient monitoring to address maternal mental health, hypertension, preeclampsia, and gestational diabetes; complications that disproportionately affect minority women. The Babyscripts myJourney app delivers gestational age-appropriate educational content, email campaigns, satisfaction surveys, appointment reminders, and weight monitoring; as well as evidence-based guidelines approved by the patient's obstetrician in the form of daily nutritional, medical and lifestyle action items.
"With this collaboration, Privia Health is casting of vote of confidence for virtual maternity care, expanding the use of Babyscripts to their markets to truly transform maternal outcomes across the US" said Babyscripts co-founder, "With Babyscripts, Privia is making prenatal and postpartum care available at any time and any place, to help their providers move the needle on outcomes for the most vulnerable among our population."
Babyscripts has spent the last seven years building a clinically-validated, virtual care platform to allow OBGYNs to deliver a new model of prenatal care. Using internet-connected devices for remote monitoring, Babyscripts offers risk-specific experiences to allow providers to manage up to 90% of pregnancies virtually, allowing doctors to detect risk more quickly and automate elements of care.
About Babyscripts
Babyscripts is delivering a new model for prenatal and postpartum care that is transforming the way expectant mothers use technology to work with their healthcare providers. We've spent the last seven years delivering the most-implemented mobile clinical solution for remote monitoring in pregnancy, with the mission to eliminate maternal mortality and improve access to care for all mothers. Babyscripts was named to the 2020 Digital Health 150, CB Insights' annual ranking of the 150 most promising private digital health companies in the world. For more information on our virtual care solution and to request a demo, visit www.babyscripts.com.
About Privia Health
Privia Health™ (Nasdaq: PRVA) is a technology-driven, national physician enablement company that collaborates with medical groups, health plans, and health systems to optimize physician practices, improve patient experiences, and reward doctors for delivering high-value care in both in-person and virtual settings. Our platform is led by top industry talent and exceptional physician leadership, and consists of scalable operations and end-to-end, cloud-based technology that reduces unnecessary healthcare costs, achieves better outcomes, and improves the health of patients and the well-being of providers. For more information, visit priviahealth.com.
Safe Harbor Statement
This release may contain forward-looking statements within the meaning of the safe-harbor provisions of the Private Securities Litigation Reform Act of 1995. Forward-looking statements include all statements that do not relate solely to historical or current facts, including, but not limited to, statements regarding projections, future operations or plans, financial results, cash flows, costs and cost management initiatives, capital structure management, growth rates and operational and strategic initiatives, and can also be identified by the use of words such as "may," "will," "projects," "expects," "anticipates," "intends," "plans," "believes," "estimates," "continues," "thinks," "outlook," "target," and words or phrases of similar meaning. These forward-looking statements speak only as of the date hereof and are based on our current plans and expectations and are subject to a number of known and unknown risks, uncertainties and other factors, many of which are difficult or impossible to predict and may be beyond our control. These risks and uncertainties include, but are not limited to, those factors described in our filings with the Securities and Exchange Commission, including those under "Risk Factors" therein. As a consequence, current plans, anticipated actions and future financial position and results of operations may differ materially from any future results or performance expressed or implied in any forward-looking statements in this press release. Given these uncertainties, you are cautioned not to place undue reliance on these forward-looking statements. The company undertakes no obligation to revise or update any of these statements, or to make any other forward‐looking statements, whether as a result of new information, future events or otherwise.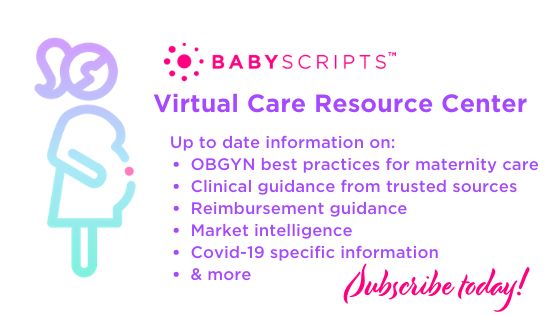 Best practices, customer stories, market intelligence all in one place.
Babyscripts's clients can take advantage of
RPM CPT codes to provide virtual prenatal and
postpartum care and explore reimbursement
opportunities with payer organizations.