Babyscripts myBloodPressure
Tue, Nov 16, 2021 12:00 PM - 1:00 PM EST
myBloodPressure Webinar
Join the Babyscripts product team as they introduce and discuss Babyscripts myBloodPressure, a new comprehensive product for blood pressure remote monitoring to help providers and payers manage BP complications in the prenatal and postpartum period through four separate clinical risk pathways: normotensive, chronic hypertension, prenatal hypertension (at-risk for preeclampsia), and postpartum hypertension. The team shares current user experiences and how the solution has been used to affect life-saving interventions.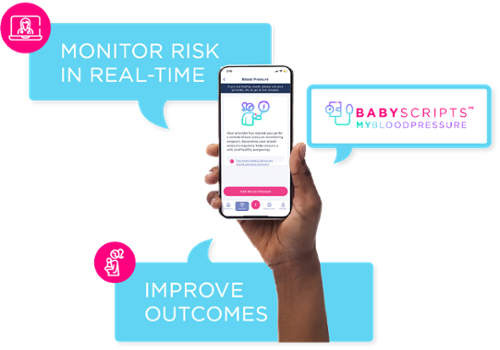 Obstetrics-Specific Solutions
Lauren Demosthenes, MD, OBGYN, and Senior Medical Director of Babyscripts, also joins the discussion to give her insights on the benefits of an obstetrics-specific solution for blood pressure management and the current state of care, sharing her recent experience as a panelist for the Michigan Plan for Appropriate Tailored Health Care in Pregnancy Prenatal Care and her work with the Million Hearts Initiative for Self-Measured Blood Pressure Monitoring.